Let's face it—grocery shopping can cost a pretty penny and requires a lot of time and effort, so any way to extend the shelf life of your ingredients is probably welcome. Few things are worse than digging out ingredients from the back of the refrigerator, ready to whip up something delicious, only to find that they spoiled long before you could use them. For anyone who takes meal preparation seriously or buys in bulk at a warehouse store, a food vacuum sealer would be a smart addition to your kitchen.
Vacuum sealers help prevent bacteria and mold from forming on food by removing air from bags. They also reduce the chance of freezer burn, keeping frozen items tasting fresher for longer. Vacuum sealers are particularly useful if you prefer to buy food in bulk or preserve food you've caught yourself, such as fish. If you enjoy sous vide-style cooking, a vacuum sealer will also be essential if you don't already have a store-bought, vacuum-sealed bag of food. You can vacuum-seal practically every type of food, too, including meat, fish, fruits, vegetables and even dry ingredients.
The Three Main Types of Vacuum Sealers
There are three main types of vacuum sealers: handheld, external and chamber. Each has its advantages and drawbacks.
‌Handheld vacuum sealers‌ remove air through a valve on specialty zip-top bags, but aren't nearly as powerful as external and chamber vacuum sealers. Their bag seals tend to be weaker and easier to puncture, but the upside is that they're small, portable and cheaper.
‌External vacuum sealers‌ involve placing the lip of the bag opening into a narrow chamber over a seal bar, then shutting the lid and locking it in place, after which the vacuum pump pulls air directly out of the bag. External vacuum sealers require "quilted" sealer bags, which you can buy in rolls or pre-cut on Amazon. If you want to seal things like Mason jars, you'll need additional accessories. External vacuum sealers have less vacuum power than chamber sealers and are louder. It's a good idea to wait 20 to 60 seconds between each sealing to avoid overheating the unit, and you'll have to freeze any liquids that are getting sealed beforehand to prevent moisture from getting sucked into the vacuum motor and causing damage. However, external vacuum sealers work well enough for sealing most types of foods. They don't take up a ton of space and are pretty affordable, making them a popular choice for vacuum sealing at home.
‌Chamber vacuum sealers‌ come with a chamber in which you place the entire bag with its lip positioned over the seal bar. When you close the lid and turn on the vacuum pump, air gets sucked out of the chamber, removing all of the air from the bag. The machine then heat-seals the bag. Chamber vacuums are the most powerful of the vacuum sealer types and less noisy than external vacuums. They also don't require as much rest time between sealings, making them well-suited for extended periods of use. Liquids don't have to be frozen before sealing, and many models can fit pint-sized Mason jars, so you don't have to buy other accessories to seal them. The trade-off is that chamber vacuums are by far the most expensive and tend to be large and bulky while also requiring more maintenance.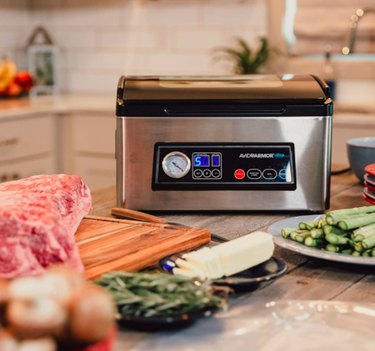 What to Consider When Purchasing a Vacuum Sealer
‌Type:‌ Which type of vacuum sealer you get depends on your needs. If you're a single-person household, a handheld vacuum sealer might suffice. If you want to vacuum seal in large quantities at a time, such as for commercial purposes, a chamber vacuum sealer will work best. For the typical family of four to six people, an external vacuum sealer is a happy medium that is sufficient for most vacuum sealing tasks.
‌Vacuum Strength:‌ All three types of vacuum sealers can get the job done, but the quality of results depends in part on the vacuum strength. Handheld sealers are the weakest, while chamber vacuums boast the most vacuum power. The longer you plan on preserving food, the more vacuum strength you may want. Most manufacturers use inches of mercury (inHg) to measure their vacuum strength.
‌Range of Controls:‌ Having more than one sealing option, such as a manual or pulse button that allows you to slowly pulse the vacuum, can be particularly useful when sealing delicate foods like berries, chips and crackers. Another useful control is a cancel button so you can stop the vacuum or sealing at any moment. Some models also let you control the vacuum pressure by switching between normal and gentle pressure. Others may include moist and dry seal modes, with the moist mode extending the sealing time to make it extra secure.
‌Size:‌ Handheld vacuum sealers are roughly the size of an electric pencil sharpener or small thermos so they can easily fit in your cupboard. External vacuum sealers are much larger and roughly the size of a home printer, but typically lay a bit flatter. Chamber vacuum sealers vary in size (the non-commercial models have a footprint similar to that of an external vacuum sealer) but are taller and bulkier, making them the most difficult to store. It's a good idea to figure out where you would place or store your vacuum sealer before purchasing one.
‌Accessories:‌ Most handheld vacuum sealers aren't equipped to do anything other than basic sealing, but many external models come with an accessory port to use with various attachments, which are usually sold separately by the same manufacturer. Some accessories include attachments for sealing jars and marinating canisters for meats. Chamber vacuum sealers don't require extra accessories.
‌Noise Level:‌ External vacuum sealers are the loudest (around 70 to 83 decibels), about as loud as a vacuum cleaner. Chamber vacuum sealers are considerably quieter. While noise level isn't the most important factor, it's worth considering, especially if you live with babies, small children or pets who may be startled by loud noises.
‌Price:‌ Chamber vacuum sealers are by far the most expensive, often fetching upwards of $500 per model, while prices for handheld and lower-level external vacuum sealers often fall within the $25 to $200 range. Machines for less than $100 generally have less vacuum strength, fewer controls and lack some thoughtful features, such as a built-in bag cutter or a place to store a roll of bags. Models between $100 and $200 are the sweet spot in that they usually have larger motors and multiple control options, while models above $200 typically have the same functions but boast the most powerful vacuum strength, which isn't always necessary for home use.
With these considerations in mind, here's our list of the best vacuum sealers:
The Best Overall Vacuum Sealer
The NESCO VS-12 vacuum sealer offers virtually everything you could want in an external vacuum sealer—plus special features—which is rare to find at this price point. Its powerful vacuum suction of 25.1 inHg is at the high end for home vacuum sealers. Its wide selection of controls includes the ability to make double seals on bags, the option to choose between moist and dry sealing, as well as gentle and normal pressure, a pulse button for vacuuming delicate foods and a cancel button. The controls also light up when activated and turn off once a vacuum cycle has completed so you know when it's safe to open the lid, which includes a handle to make it easier to close and lock.
Other special design features include a built-in sliding bag cutter and a slot for storing a roll of bags. Talk about convenience! The NESCO VS-12 also doesn't take up a ton of space. It measures 15 3/4 inches long, 8 inches wide and 6 1/8 inches tall, which is pretty manageable as far as storage goes. As a bonus, you also get two rolls of bags to get started, one measuring 8.6 inches by 9.85 feet and one measuring 11.8 inches by 9.85 feet. The only caveat is that this vacuum sealer is loud—approximately 78 decibels on its most powerful setting. Other than this minor flaw, the NESCO VS-12 represents the best value for what you receive and it's one of the most thoughtfully-designed vacuum sealers on the market.
Runner-Up Best Overall Vacuum Sealer
The Anova Precision Vacuum Sealer doesn't offer as many features as our best pick, but its sleek and narrow design takes up roughly half as much space, making it easier to store. It's considerably quieter than the NESCO VS-12 and creates secure bag seals that will last a month or longer in the freezer. The lid is easy to close and the vacuum sealer offers a pulse option for sealing delicate foods. Due to its narrow design, it doesn't have room for things like a built-in bag cutter or a place to store a roll of bags. It measures 15 1/4 inches long, 4 inches wide and 2 1/2 inches tall. While it lacks some bells and whistles, including an accessory port for sealing items like Mason jars, it's quiet, effective and affordable, making it a good choice as long as you're not planning to use it for extended periods of food prep.
The Best Handheld Vacuum Sealer
FoodSaver's cordless handheld vacuum sealer is small and portable—smaller than a paper coffee cup—making it easy to fit in a kitchen drawer or save space on your countertop. It comes with a charging port and can seal up to 60 1-quart bags on a single 24-hour charge. While its vacuum power pales in comparison to that of larger, high-end vacuum sealers, it gets the job done. Its seals may not be as tight or last as long as those from competitor models, but if you're looking to extend the refrigerator or freezer life of foods for weeks instead of months, it will work just fine. In addition to the vacuum sealer, you get the docking station and four 1-quart vacuum seal zipper bags to get started.
The Best Vacuum Sealer for Big Batches of Food
One of the best things about the KOIOS external vacuum sealer is its extra-long, 11.8-inch sealing wire, which can seal up to three bags at a time, making it ideal for food preparation in large batches. It offers powerful vacuum suction and can handle up to 40 consecutive sealings before it needs a rest. You can choose between moist and dry sealing and use the cancel button to stop at any time. Each vacuuming and sealing job takes approximately 10 to 20 seconds. As a safety feature, the vacuum sealer won't operate unless the lid is locked firmly in place. It includes an accessory port for external vacuum pumping for tasks like canning, wine preservation and sealing Mason jars. In addition to the vacuum sealer, it comes with a user manual, a pumping pipe, a miniature bag cutter, a replacement sealing strip and 10 KOIOS vacuum bags (five small and five large).
The Best Budget Vacuum Sealer
The Neeyer vacuum sealer is proof that you don't need to spend a lot of money to get a quality external vacuum sealer. It's easy to switch between moist and dry sealing modes and its LED lights and touch-screen panel make it user-friendly. The Neeyer model also doesn't take up a lot of space and is capable of sealing 8-inch and 11-inch bags. It includes an accessory port for sealing jars and specially designed 8-inch bags to get you started. It may lack some bells and whistles, but it's an unbeatable price for an external vacuum sealer and a good entry-level option for those new to vacuum sealing.
The Best Chamber Vacuum Sealer for Home Use
The only chamber vacuum sealer on this list, the Avid Armor USV32 is by far the priciest, but you get what you pay for. It features a roomy, 11-inch sealing bar with two sealing wires that can seal pouches as large as 11 inches by 13 inches. The working sealing chamber measures 12 inches long, 11 1/2 inches wide and 3 1/2 inches tall, offering ample space for larger food items and liquids. It boasts an adjustable seal time function with a marinate option, as well as a digital control panel with soft-touch buttons. The lid is clear so you can see what's inside at all times. One edge it has over other types of vacuum sealers is that thanks to its chamber design, the air isn't being sucked out of the pouch itself, meaning you don't have to freeze liquids before sealing. The double-seal wire provides two seals on every bag or pouch for extra security. Its overall dimensions measure 15 1/2 inches long, 14 inches wide and 9 1/2 inches tall.