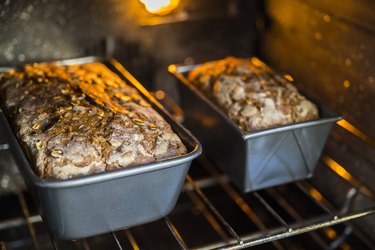 Nothing compares to the smell of a loaf of bread when it's fresh out of the oven. No matter how many times you've baked bread, it's still one of the most satisfying kitchen moments. To bake that bread you'll need—at a minimum—yeast, flour, salt and water, a working oven and of course, a loaf pan. The loaf pan itself is an important part of the equation. It helps determine whether your bread will rise up light and fluffy, and how crusty your finished loaf will be. They also vary widely in their ease of cleanup, which is something to be aware of before you start your annual holiday baking binge. Here's what you need to know in order to pick the best loaf pan for your own use.
What to Consider When Purchasing a Loaf Pan
‌Material:‌ Most loaf pans are made of steel, whether it be carbon steel, stainless steel or aluminized steel. It's sturdier than aluminum (the default choice for most baking), and it gives a balance of even heat distribution and reliable browning that works well for bread baking.
Other options include tempered glass, ceramics and cast iron. They all take longer to heat up but retain more heat, which makes them a good bakeware choice for recipes where you want a really, really crusty result. They're heavier than steel pans, and ceramics and glass can chip or shatter when dropped or when subjected to thermal shock (going from hot to cold too quickly, or vice versa). Silicone pans are innately nonstick, but they can flex during baking—affecting the appearance of your baked goods—and they won't form a heavy crust.
‌Shape and Size:‌ The standard 1-pound loaf pan measures about 8 1/2 inches long by 4 1/2 inches wide and about 2 1/2 inches deep. You'll also see slightly larger pans at 9 by 5 inches, which doesn't sound like a big difference but does have an impact. The wider, longer pan makes a significantly bigger loaf, if—and this is important—your recipe is sized for it. If not, it will be disappointingly flat, because you'll get more rise in the narrower pan.
Straight sides also encourage a higher rise, though sloped sides mean your pans will stack better for storage. Some pans have crisp, sharp corners which yield a professional-looking loaf, but can be harder to clean. Others, especially in ceramic and glass, have rounded corners where loaves are less likely to stick and which are easier for cleaning.
‌Your Usage:‌ What do you bake most often? If you're mostly a bread baker, a standard-issue steel loaf pan is probably your best bet. If you bake a lot of sweet breads or dessert loaves, you might lean toward a nonstick surface. If you use your loaf pan for casseroles, meatloaf, pates, small lasagnas and other savory preparations, you might want a glass or ceramic pan for those. They won't react with acidic ingredients, won't leave a metallic taste on your food, and you can serve right from the pan (and use it to store leftovers when you're done). As you grow in your baking skills, you'll probably accumulate a variety of loaf pans for different purposes.
‌Clean Up:‌ Some pans are dishwasher-safe and some are not, and even pans described as dishwasher-safe will generally last longer with hand-washing. As a rule, nonstick loaf pans are the easiest to clean, but glass, ceramic and most metal pans clean up easily enough if you've greased or sprayed them as directed by the manufacturer or lined them with parchment paper.
Most pans are susceptible to scratches if you scrape them with metal utensils or clean them with metal scrubbers or harsh cleansers, which can damage the finish of non-stick pans, lead steel pans to rust and cause glass or ceramic to eventually crack or shatter.
The Best Overall Loaf Pan
A lot of reviewers settle on USA Pan's classic 1-pound aluminized steel loaf pan as their top pick, and it's a genuinely great pan for the price. That being said, we think it's worth paying slightly more for this model, which is why we've given it our nod. The two pans are very similar. They're both made from USA Pan's signature aluminized steel, with a textured surface that helps promote airflow and contributes to the pan's non-stick qualities. Both pans also have the company's proprietary "Americoat" silicone nonstick coating, which is PTFE-, PFOA- and BPA-free.
The big difference between the two is that our top pick "Bakeware Classics" pan has wide handles at either end of the pan, which make it much easier to handle when you're moving bread to and from the oven or turning your loaves mid-bake. If that doesn't matter to you, you can save a few bucks and choose the standard version of the pan (or its rival from Chicago Metallic, which should also last you through a lifetime of baking).
Wilton may not be the most prestigious name in bakeware, but they have a pan for everything and usually represent solid value. This loaf pan is no exception. It's made of durable steel with a silicone nonstick surface and will hold up reasonably well with a minimum of care (it's dishwasher-safe, but the finish will last longer if you hand-wash it). The pan has rounded corners for easy release and easy cleaning, and it's constructed heavily enough to resist warping as it moves in and out of the hot oven. Like our top pick, it also has spacious handles, which make it easy to hold even when you're wearing clumsy oven mitts. The sides are sloped just enough that the pans will nest together, so two take up barely more cupboard space than one.
Bear in mind that this pan is slightly oversized and holds the equivalent of 1 1/2 standard one-pound loaves. It's great if your favorite bread recipe makes a large batch, but less so for banana bread or other dense dessert loaves.
The Best Pan for Dessert Loaves
Silicone pans are impressively nonstick, and nothing beats them for easy release: If your baked goods are sticking, you can literally push them out of the flexible pans. As versatile as they are, though, silicone pans have a couple of downsides. One is that you won't get a crusty loaf from one (silicone doesn't work that way) and another is that the pans themselves are floppy and usually need a baking sheet under them for support. Cookware manufacturer Trudeau has a solution for the floppiness issue with its "Structure" line of bakeware. The silicone pans are nestled into rigid metal frames, giving you a pan that's easy to handle but still has the virtues of silicone.
The lack of a deep crust is a flaw for some types of bread, but if you prefer soft loaves—and especially sticky, sweet breads and loaf cakes—this silicone pan should be on your radar. Go ahead, make those sticky caramel buns! Layer the cheese and tomato sauce into your pizza bread! They'll unmold easily from the pan, and cleanup is a breeze (hand-washing is quick and easy, but the pan is dishwasher-safe as well). This loaf pan can go from the freezer to the oven to the table and back again to the fridge, something most pans aren't capable of. It may or may not work as your only loaf pan, but the Trudeau definitely has a place in a serious baker's kitchen.
The Best Glass or Ceramic Loaf Pan
Glass baking pans have some sharp limitations—they're fragile, and heavy, and won't stand up well to sudden temperature changes—but overall, there's a case for saying that they're the most versatile of all loaf pans. They'll handle your yeast breads, quick breads or pound cake with aplomb, but they're also ideal for savory dishes such as small-family casseroles or lasagna, meatloaf, or even small roasts or braises.
This one from OXO is made from heatproof borosilicate glass (rather than the more common tempered soda-lime glass) which makes it much more resistant to thermal shock, though also more likely to break if dropped. In typical OXO fashion, the loaf pan has wide and comfortable handles, easy to grip even with oven mitts on. It also comes with a matching plastic lid, increasing the pan's versatility: You can use it to put leftovers into the fridge or freezer or to take a pan full of food to your next potluck. As with any glass bakeware, it's also completely dishwasher-safe. You may or may not like having glass pans in your kitchen, but as glass loaf pans go, this is an excellent one to choose.
Sometimes, you won't necessarily want to make a full-sized loaf. Baking bread in a small pan is faster, and it's ideal if you're not a big bread eater. If you're whipping up a batch of your favorite pound cake or banana bread for gifting, you'll also get a lot more mileage out of small pans than large ones. For those occasions, it's handy to have a few mini loaf pans around.
These ones from Wilton are probably all you need. They're well made of heavy gauge steel with a non-stick coating, and have a wide handle at each end for a good grip (especially important with small pans). Like our value pick from Wilton, they're dishwasher-safe but will last longer if hand-washed. These little pans measure 3 inches wide and 5 3/4 inches long, which is about 1/3 the volume you'd have with a standard-sized pan. Put another way, you'll need three mini pans for every loaf pan the recipe calls for. Knowing this, Wilton conveniently sells them as a bundle of three.
The Best Pullman Loaf Pan
The best bread for sandwiches is soft and has a fine, even, fluffy-but-dense crumb. The French call it "pain de mie" (literally "the crumb," or "the soft part of the bread"), but in North America, it's just called sandwich bread or sometimes a Pullman loaf. A proper Pullman loaf requires a special long, narrow bread pan with a lid, which gives perfectly squared-off slices for sandwich-making. It also traps steam in the pan, contributing to the loaf's tenderness and limits the bread's rise. That also helps create the bread's signature fine crumb, by taking away the space needed for large holes to form in the dough.
A standard Pullman pan or "full Pullman" is about 13 inches long, like this durable model from USA Pan. It holds roughly 2 pounds of bread dough, twice the amount in a standard loaf, so if your recipe normally makes two loaves, you can bake it all in this one pan. It's constructed of the same materials used in our top pick loaf pan, but in a longer and skinnier straight-sided form. Sliding the lid on and off will take a bit of practice, but it works smoothly once you've gotten used to it. Baking bread with the lid on gives you the classic rectangular sandwich loaf, or you can leave it off for a domed top and a more conventional texture. If a full Pullman loaf is more bread than you can conveniently eat while it's fresh, there are also many pans—like this one from Chefmade—that are sized for a 1-pound loaf.
Bonus Pick: The Best Loaf Pan for Meatloaf
Loaf pans are versatile pieces of bakeware, but meatloaf is a specific use case that's worth discussing separately. You can definitely make meatloaf in a regular loaf pan, but ideally you'd want one that's a bit larger (and definitely deeper, to keep fat from spilling over).
Several companies offer specialized loaf pans for that exact purpose, and we like this one from Chicago Metallic. Like the company's other pans it's made from durable heavy-gauge steel, with a silicone-based nonstick coating for easy cleanup (that's especially important if you like to caramelize the glaze on top of your meatloaf). The real star of the show, though, is the insert. It's a perforated base that fits neatly into the pan, and allows fat to dimply drain away as your meatloaf cooks. When it's done, use the integrated handles to lift your finished meatloaf cleanly from the pan and onto your cutting board, leaving the fat behind. Like many of the other pans in this review it's dishwasher-safe, but hand-washing will help it last longer.