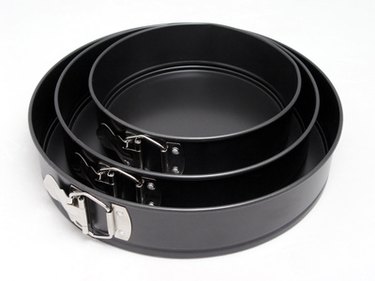 Teflon, the coating on non-stick pans, is difficult to recycle due to the health risks that are linked to the material. Chipped or scratched Teflon is not safe to cook with, and you should discontinue the use of pans when the Teflon is damaged. Once you have discontinued the use of the pans, it is best to recycle them, but not all areas and centers offer recycling options for Teflon products. It is important to learn what the procedure is in your area and what your other options are.
Step 1
Call your local waste management company and ask about their policy on recycling non-stick pans. If the company offers services, follow their instructions to recycle through them.
Step 2
Contact the pan manufacturer and ask them if you can send the pans back to them. Chances are, they can re-coat the pans with a fresh layer of Teflon and resell them.
Step 3
Have your pans sand-blasted. Contact a sandblaster in your area and ask him to remove the Teflon coating from the pan. This option will make the pan recyclable or even reusable without the complication of a non-stick surface. You can find a sandblaster in your local phone book, but be aware that the process will not likely be free of charge.