As the late Barbara Johnson once said: "A balanced diet is a cookie in each hand." And, if you ask us, there is no wrong time to enjoy a cookie! With the holiday season approaching, you can bet that cookies will be a popular sight and smell. However, not all cookies are created equal. While most cookies turn out all right, not all reach the elusive heights of cookie perfection: firm enough not to fall apart, but with a soft, slightly gooey center, and certainly not dry and crumbly (though preferences vary). But, there is hope. With the best baking tools, you wield your greatest secret weapon in the unofficial Best Homemade Cookie Challenge. If cookie making is baked into your very soul, give these must-have baking tools a try.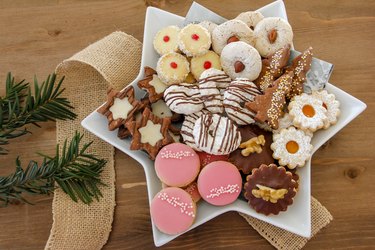 If you've ever struggled to get butter, flour and milk to combine properly, this traditional Danish-style mixing utensil makes mixing dough by hand so much easier. Its unique design mixes dough three times faster than a traditional spoon or spatula. You get not one, but two mixing whisks—one with a single-eyed hook and another with a double-eyed hook. Both mix the wet and dry ingredients in your dough much better than a regular spoon can. Hand-mixing is also great if you don't want to over-mix the dough, especially for cookies. They're also much easier to clean than a traditional whisk since you can easily reach both sides. Each whisk features a handle made of oak wood and an eye hook made of stainless steel.
Not only can you use this tool for mixing cookie dough; it works equally well for making bread, brownies and pizza, too. Poor souls without this gem may sadly be left with dry dough that falls apart. That's just the way the cookie crumbles—but your cookies don't have to.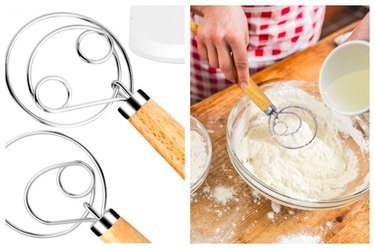 Tip
You can use this tool to get a nice, even cookie dough mix, but be careful not to overdo it—the more you mix the dough, the more you activate the gluten, which is good for chewy breads, but not the best for cookies and cakes. So it depends on what you're making.
Once you're satisfied with your dough, it's time to scoop it. This cookie dough scoop set from HOMURE H features three different sizes for scooping one, two or three tablespoons. Made of stainless steel, the ergonomic design and spring trigger system relieve pressure on your wrist and hand, and it squeezes easily to release the dough in a perfect little ball. Each scoop is also stain-resistant and dishwasher-safe. Though this scoop set is perfect for cookie dough, you can also use it for scooping ice cream, melon balls, and muffin or cupcake dough just as effectively. You can get the perfect scoop each time.
Tip
Keep in mind that the bigger the scoop, the bigger the cookie, so you may need to space your cookies out farther apart to allow for room as they bake and expand in the oven.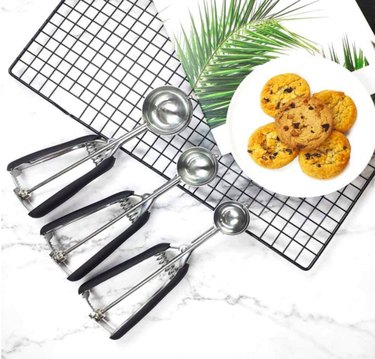 If you'd prefer to make flatter, perfectly round cookies made from rolled-out dough (which this stainless steel rolling pin is perfect for), this 11-piece cookie cutter set from Ultra Cuisine is for you. Made of stainless steel, the set comes with 11 cookie cutter rings ranging from 1 inch to 3 inches in diameter and approximately 1 inch to 3 1/3 inches in depth, allowing you not only to cut cookie dough to a variety of thicknesses, but also shape dough for scones, biscuits, fondants, miniature pies and more. You can even place a smaller cutter inside of a larger one to make donut rings. Each piece is dishwasher-safe and BPA-free.
As a bonus, you get three ornate cookie stencils, including a snowflake pattern—well-suited for the holiday season, and excellent for designs using powdered sugar, cocoa or a mix of both.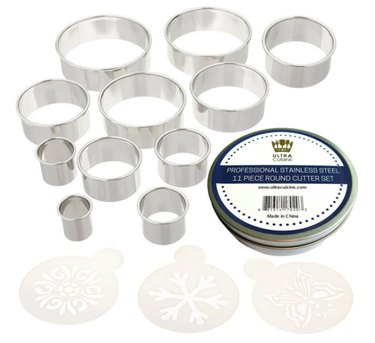 Nordic Ware created this baking sheet specifically with cookies in mind. Featuring a cushion of air between two layers of aluminum, it provides added insulation as protection against over-browned cookie bottoms (or burnt pizza crusts). It measures 16 1/4 inches long and 14 1/4 inches wide, and unlike other baking sheets with a raised rim forming the edges, the majority of the cookie sheet lies flat, offering ample baking room. It also makes cookie removal a cinch, as you can simply slide the cookies onto a wire rack to cool and avoid over-baking.
The only caveat is that it's not non-stick. If your recipe necessitates it, you may want to line the sheet with parchment paper or spray it with oil, but in general, this won't be an issue for cookies.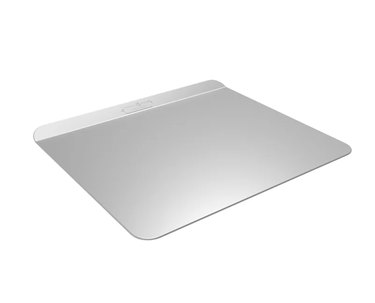 Honorable Mention: Nordic Ware Commercial Baker's Natural Aluminum Half Sheet (2-Pack)
However, if you do want a non-stick baking sheet, this commercial baker's half sheet (actually, you get two) from Nordic Ware is another of our picks. Made from pure aluminum that will never rust, each sheet has a baking interior of just over 12 inches by 17 inches. Due to the aluminum's superior heat conductivity, cookies (and other foods) will bake and brown evenly, and the reinforced steel rim prevents warping in high temperatures. It's one tough cookie (but your own cookies won't be). Though it's already non-stick, it's also compatible with parchment paper and silicone baking mats.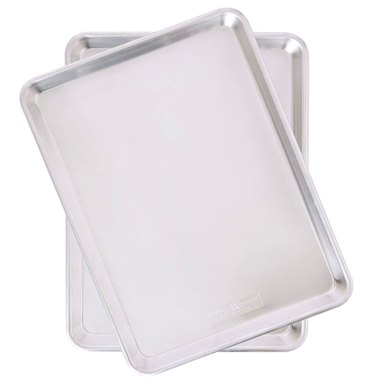 This reusable, non-stick baking mat is your secret weapon against burnt cookie bottoms. Plus, it's ideal for those looking to reduce one-time use items in their kitchen, such as parchment paper. Made in France using food-grade silicone, each mat features outlined spots to make a baker's dozen (13) of cookies: The smaller, interior circle serves as guide for placing the right-sized ball of dough, while the outer ring gives each ball of dough just enough space to bake perfectly without melding into neighboring cookies.
Measuring 11 5/8 inches wide and 16 1/2 inches long, it's intended for use on 13-by-18-inch pans. It's also safe up to 500 degrees Fahrenheit, down to -40 degrees Fahrenheit, making it oven-, microwave- and freezer-friendly. It's really built to last—unlike your cookies, which will surely disappear quickly once you offer them to friends and family! This mat is your secret weapon to baking consistent and superior cookies.
Honorable Mention: Silpat Nonstick Silicone Baking Mat
We also like this other silicone baking mat from Silpat. You can certainly bake cookies on it, but it doesn't come with the outlines of the other mat, in case you find them distracting when baking other items. Other than that, the half sheet is virtually identical to the Perfect Cookie Baking Mat. However, if you want a full sheet, it measures 16 1/2 inches wide and 24 1/2 inches long. The more, the merrier! Cookies, we mean.