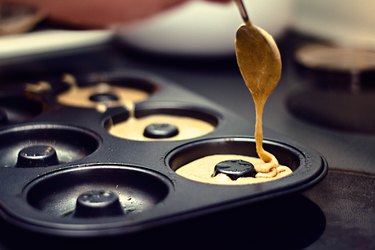 Whether you call them doughnuts or donuts, these sweet treats are one of the most popular of life's guilty pleasures. Whether you take yours relatively plain or decorated to the hilt, it's a rare day that can't become better when you add donuts. Traditionally, donuts are fried in oil, but that's problematic for home bakers. Oil is expensive, deep-frying is a relatively high-risk cooking method, and it also makes for a lot of extra calories. Baking them instead in a donut pan (or doughnut pan, if you prefer) is usually a better option. We've picked out six of the best for your consideration.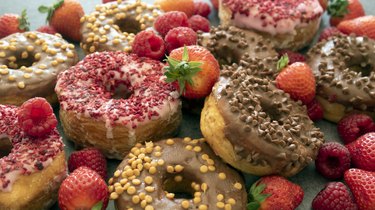 What to Consider When Purchasing a Donut Pan
‌Materials:‌ Donut pans come in two basic versions: metal or silicone. Metal pans are usually crafted from stainless steel or carbon steel, occasionally clad in aluminum (aka, aluminized steel), and usually with a nonstick coating of some sort to help the donuts release easily. Silicone donut pans are made of food-grade silicone, and don't require a nonstick coating since the silicone material is already nonstick. The issue with silicone pans is that they're not rigid, so you'll need to put a baking tray underneath the pan before you fill it and bake it. There's no real right or wrong, here, it's purely a matter of personal preference.
‌Ease of Cleanup:‌ Nonstick silicone is easier to clean up than metal pans, because you can turn the flexible cavities inside out—if needed—to get at any stubbornly stuck-on crumbs. They're also reliably dishwasher-safe (there's no coating to wear off), though over time you may find that their nonstick performance degrades a little bit. Metal pans may or may not be rated as dishwasher-safe by their manufacturer, but in practice it's almost always best to hand wash.
‌Grease, or Don't Grease?:‌ Some manufacturers explicitly advise not to grease their pans, especially with a nonstick spray, as it's not necessary and can create a buildup over time that affects the pan's performance. Others suggest oiling or greasing their pans routinely, or perhaps just for extra-sticky recipes. Again, there's no right or wrong. Take the time to research the manufacturers' recommendations before choosing a pan, and follow them. If your whole goal in opting for baked donuts is reducing their fat content, you'll probably want to choose one that requires no additional greasing.
Tip
Yeast-raised donuts are relatively easy to work with; you just cut them and drop them into your pan. Cake donuts are made with a batter, and getting the batter neatly into your pan (especially for mini donuts) can be difficult. Your best bet is to use a piping bag, but not everyone has those around. Good alternatives include the kind of squeeze bottles used for condiments, or a zipper-seal freezer bag with one corner snipped off (after it's filled, of course).
The Best Overall Donut Pan
If you love donuts, and plan to bake them frequently, this is your donut pan. USA Pan crafts its distinctive bakeware from aluminized steel, which simply means that the high quality steel pans are clad in aluminum for better heat distribution. That solidity means you can use them at temperatures of up to 450 degrees Fahrenheit without the pan warping or bending. Their silicone-based nonstick coating is the company's own proprietary formula, much more durable than traditional coatings and it's PTFE-, PFOA- and BPA-free as well. In regular use, the nonstick coating works pretty well, though it's still best to apply a bit of oil or grease before piping in your batter. The pan is dishwasher-safe, though dishwasher detergents are naturally harsh and even the best nonstick coatings (like this one) will last longer if you hand-wash.
If you're less concerned with getting absolutely the best donut pan, and more interested in bang for your buck, it's hard to beat these classic nonstick donut pans from Wilton. For less than half the price of our top pick, you get two perfectly functional, good-quality pans. That's twice the fun for a lot less money, clearly a win-win situation. The Wilton pans aren't as heavy-duty as our top pick, and their nonstick coating isn't likely to hold up as well in the longer term, but for most of us that's not a deal-breaker. They're plenty good enough for regular use, and how often will most of us be baking donuts anyway? They're a solid offering from a reliable brand at a price that anyone can love, and that's all they need to be.
The Best Silicone Donut Pan
If you browse online retailers, you'll find no shortage of bright, colorful silicone donut pans at very low price points. And to be clear, there's nothing wrong with those at all. If they're from a reputable manufacturer, they'll still be made of food-grade silicone, and they'll turn out perfectly fine homemade donuts. Their only downside, really, is that they're relatively thin and flimsy. Even when resting on a baking sheet, they may tend to deform under the weight of your batter, or even spill some onto the supporting pan.
You won't have that problem with this set of silicone donut molds from ABAM. They're made of heavier silicone (the kind you'd see at a bakery) and they'll stand up to even the heaviest batters. Like any good silicone set, they're freezer-safe as well as oven-safe, so you've got the flexibility to use them for lots of things other than donuts (like frozen desserts and bagels). And getting a set of three at this relatively low price means you'll be able to crank out big batches for a crowd with ease.
The Best Individual Donut Molds
There are a couple of scenarios where standard donut pans aren't necessarily the best option. One is if you only want a few donuts, and the other is when you need to make a lot at one time. Paradoxically, the same product can meet both needs: Individual silicone donut molds like these. When you want just a few donuts, you can pop two or three into your toaster oven or even your air fryer. When you're baking for the holiday crowd, line them up in rows on your sturdiest baking sheet (if you entertain often, you may need two sets) and turn out your donuts en masse.
Because silicone molds are freezer-safe, you can make a normal sized batch of batter, fill the molds, and then freeze the ones you won't be using right away (it's a lot easier than scaling batches up and down). These molds make not-quite-full-sized donuts—they're 2 1/2 inches, rather than the standard 3 inches or so—but you'll still feel like you've gotten a regular-sized donut rather than a mini. When you add in their other uses for other baked goods, savory meals and crafts (soap-making, anyone?), you get a lot of versatility for surprisingly few dollars.
Sometimes, a full-sized donut is a bit much, and all we really want is a relatively small bite of our favorite sweet treat. For those moments, a mini donut pan is the ideal solution, and this one from Norpro is as good as they get. The pan is constructed from sturdy stainless steel with a durable nonstick coating, and what sets it apart from otherwise-similar competitors from Wilton or ChefMade is the size of its handles. While other pans are just slightly enlarged at the ends, the Norpro has honest-to-goodness handles that you can grip easily, even with your oven mitts on. That's a convenience that's easy to underestimate, until you're trying to maneuver pans in and out of the oven without putting a thumb into your batter. The pan makes perfect 2-inch donuts, a perfect size for snacking or for serving in large piles at your next party.
The Best Oversized Donut Pan
At the opposite end of the scale, there may be times when you decide that a standard size donut isn't going to do it, and that you need to up your game. For those moments, Bakhuk offers these silicone four-cavity donut pans. Each cavity makes a 4-inch donut, a third larger than the standard 3 inches (or so) you'll get with most pans. The three-pan set means you'll still get an even dozen, as long as your donut recipe makes enough batter (you may have to scale up your favorite recipe).
As with most other silicone pans, they're heat-resistant to 450 degrees Fahrenheit, which is as hot as you'd want to bake your donuts anyway. Cleanup is a breeze with warm, soapy water, but they're dishwasher-safe as well. It's not that you can't get bigger donut pans (you can), but let's be honest, an 8-inch donut pan isn't really a donut pan anymore, it's a cake pan. This 4-inch set hits that sweet spot (pun intended), where it's still a donut but just that delightful bit of extra.