For those who love nothing more than pairing a bloody merlot with a hot-glue gun, we have 10 DIYs that flawlessly pair two of your favorite pastimes. From the craft-fair jewelry stand to the map decoupage — these projects will have you emptying wine bottles at an alarming rate. Though, if knocking back several glasses of cabernet is not in the cards, you can find bottles at your neighborhood tavern or restaurant. Each of these projects requires a clean, sanitized bottle. Soak bottles for 20-30 minutes in warm water to remove the labels. You may need to grab a scrubber to clear away stubborn stickers.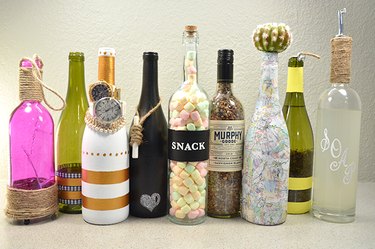 1. Chalkboard Wine Bottle
A bottle of wine is a great way to say, "I'm thinking about you." A bottle of wine coated with chalkboard paint takes this symbolic message to a more literal level. Chalkboard paint has pretty much transformed the craft space by turning everyday objects into personal notes. And we are so here for that! ​What you need:​ a clean bottle, chalkboard paint and a paintbrush. ​Instructions:​ Apply 2-3 coats of paint to the bottle, allowing an hour to dry between applications. If you have a well-ventilated space, you can try eHow's chalkboard spray paint tutorial.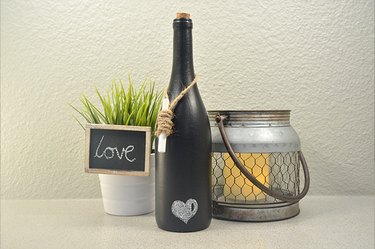 2. Wine Bottle Jewelry Stand
What better way to display your budget bling than with a budget bottle? Our craft-fair jewelry stand screams, "I'm cheap, but in an awesome way!" ​What you need:​ a clean bottle, painters' tape, white and gold acrylic paint, a paintbrush and a Q-tip. ​Instructions:​ Apply two coats of white paint, and let dry for an hour between applications. Once the second coat is dry, lay two horizontal strips of tape 2-4 inches apart from each other, and apply gold paint in the space between the tape. Use the Q-tip to create the gold dots.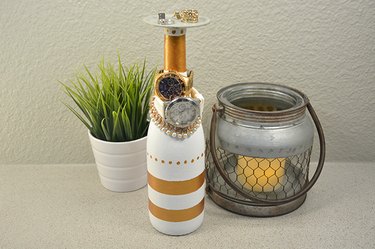 If you've ever purchased a bottle of wine just because the label was gorgeous, and you wanted to be the type of person who owns gorgeously-labeled wine, then this project is for you! Turn that pretentious bottle into a stylish bookend for the NYT-approved books that you'll never read. ​What you need:​ a wine bottle, a friend to help you drink it and something small like pebbles or sand. We used a $2 bag of fish aquarium gravel from Walmart. ​Instructions:​ Sip the wine like a literary critic and then fill the empty bottle with gravel. Seriously, crafting doesn't get easier than this!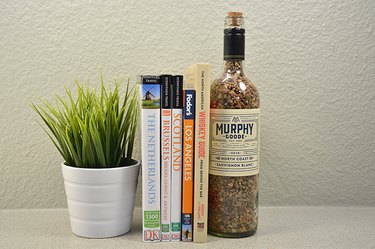 4. Alcohol-Ink Wine Bottle Lantern
Ok, you caught us. This is an old Arizona Ice Tea bottle, but we've transformed this gaudy dollar beverage from a pumpkin into a carriage (that rhymes!) with alcohol inks. Never used alcohol inks? Try this alcohol ink tutorial as guidance. Also, we have a step-by-step breakdown of this project here. ​What you need:​ a clean bottle, colored alcohol ink, Rustoleum triple-thick glaze and battery operated fairy lights. ​Instructions:​ Cover the exterior and the interior of the bottle with alcohol ink. This can be messy — we went for a complete stain, but a partial stain has a groovy artistic quality. Once dry, apply 1-3 coats of glaze to seal the ink before installing the fairly lights.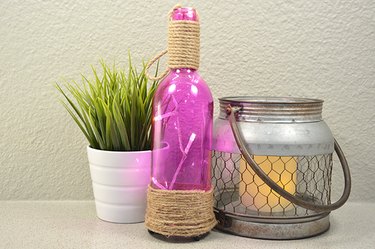 5. Self-Watering Wine Bottle
Do you have a cactus, succulent or other houseplant that only needs occasional sips of water? This self-watering wine bottle hydrates slowly once embedded into the soil. It's a perfect "set it and forget it" watering system. You can give the bottle some flair with ribbon and paint, or you can literally just use an empty wine, beer or spirits bottle. ​Instructions:​ Simply fill 2/3 of the bottle with water, cover the opening with your thumb and burrow the bottle into the soil. If you have a garden, you can place self-watering wine bottles between each plant. Now, if only we could self-water ourselves with wine all weekend.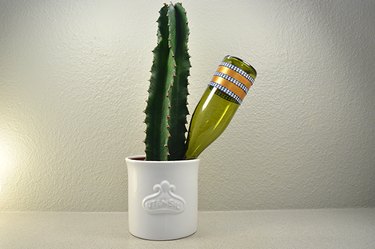 6. Wine Bottle Pickle Jar
Yes, the pickles come out! The trick with this tutorial is to use small or thinly sliced veggies like banana peppers, cucumbers and olives. You can actually pickle the veggies in the bottle. It's the type of gift that shows off your gardening, pickling and craft skills all at once. ​What you need:​ a clean bottle, vegetables, water, salt, vinegar and eHow's pickle recipe. ​Instructions:​ Once the brine has been created and the vegetables are prepared, place the ingredients into the wine bottle and then personalize it with decorations. We used leftover twine, but you do your thing!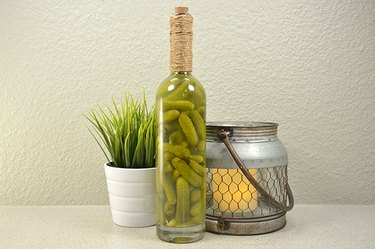 7. Wine Bottle Citronella Candle
No, it won't explode! Not only is it safer than the cheaply-made tiki torches at the dollar store, but our version also smells so much better. Check out the step-by-step DIY project here. ​What you need:​ a clean bottle, candle wick, 1/2-inch coupling with a stop, Teflon tape, citronella-scented tiki fuel and aquarium gravel. ​Instructions:​ Pour the aquarium gravel and tiki fuel into the bottle. Wrap the coupling with Teflon tape, so it fits firmly into the bottle opening. Push the wick through the coupling and then secure the coupling into the bottle.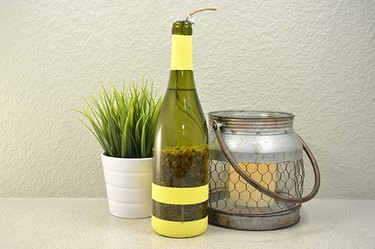 This snack bottle makes a great gift for children or a loved one who needs a sweet pick-me-up. ​What you need:​ paint, letter stickers, painters' tape and small candies like M&Ms, jelly beans or our favorites, tropical mini marshmallows. ​Instructions:​ Begin by laying two horizontal strips of tape around the circumference of the bottle about 3-5 inches apart from one another. Apply a coat of acrylic paint (leftover chalkboard paint works too) in the space between the painters' tape, and then let it dry for an hour. Apply a second coat and let dry for 1-3 hours — or better yet, overnight. Gently peel the tape from the bottle and apply the lettering to the painted section of the bottle before filling it with the candy of your choice.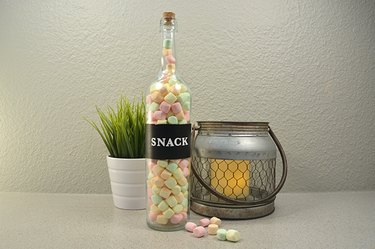 9. Wine Bottle Soap Dispenser
Nothing will stain your craft cred like using the dish-soap container that your washing-up liquid came in. Seriously — do you even DIY, bro? ​What you need:​ a clean bottle, dish soap and a stainless steel pourer (with a rubber stopper). ​Instructions:​ Fill the bottle with dish soap, secure the pourer into the opening and personalize your bottle with decorations! We added flair with twine and stenciled lettering, but — as always — you do you. This project pairs well with eHow's homemade dish soap tutorial.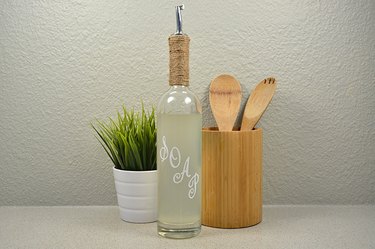 That old map of Arizona from your Grand Canyon road trip is the perfect centerpiece for a decoupage project. Decoupage is a powerful medium that showcases all of those paper keepsakes cluttering up your life: concert tickets, bent basketball cards and that copy of "Infinite Jest" that you never got around to reading. ​What you need:​ Modge Podge, a map and a brush. ​Instructions:​ Tear the map into small sections before applying a layer of Modge Podge to the wine bottle. Lay pieces of the torn map onto the adhesive, and then apply another layer of Modge Podge. ​Tip​: Don't try to decoupage the entire bottle at once; take it in sections. The Modge Podge looks thick and creamy, but don't worry: it dries clearly.