Things You'll Need
Sandpaper

Rag

Painter's tape and newspaper

Spray paint primer

Spray chalkboard paint

Chalk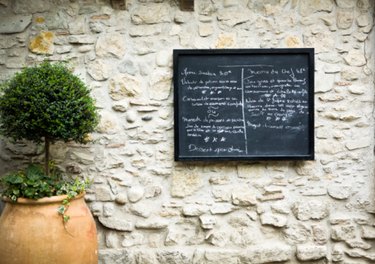 Chalkboard spray paint can quickly change any hard, smooth surface into a space you can write on with chalk. The glass in recycled picture frames, tabletops or dressers are just a few surfaces that can be transformed into a chalkboard using chalkboard spray paint. The erasable surface will allow your notes to be changed over and over again. Chalkboard spray paint is available in green or black.
Step 1
Sand the wood or glass you are painting. This will smooth away any bumps and provide a slight texture for the paint to adhere to. Wipe off the dust from the sanding with a dry rag.
Step 2
Tape off or cover any area you do not want to paint using painter's tape and newspapers.
Step 3
Spray a paint primer over the surface you want to turn into a chalkboard. Allow the primer to dry.
Step 4
Spray a coat of chalkboard paint over the primer. Allow the paint to dry thoroughly. The amount of drying time will depend on how thick the paint is and your weather conditions.
Step 5
Sand the dry chalkboard surface lightly. Wipe off the dust with a dry rag.
Step 6
Spray another coat of chalkboard paint on the chalkboard surface. Allow the paint to dry for 72 hours.
Step 7
Lay a piece of chalk on the board and rub over the entire surface to condition it. Wipe off the chalk.
Step 8
Remove the painter's tape and newspaper.