Things You'll Need
Newspapers

Gesso

Decoupage

Sponge brushes

Bowls

Canvas

Decorative papers

Poster

Shellac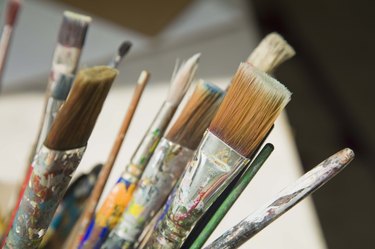 Beautifully designed posters often become the artwork of choice for many people. They frame these pieces just as they would any other kind of fine art. For those who would like to create a piece of art from a poster, but don't want to frame it in the conventional way, consider mounting it on canvas with decoupage. This type of piece shows off the beauty of the poster and gives it a fine art feel, because it's mounted on canvas just as a painting would be.
Step 1
Lay down newspapers to protect your work area.
Step 2
Prepare the decoupage mixture as well as the sponge brushes. Get out bowls for the decoupage glue (modge podge) and gesso as well as several sponge brushes. You'll also need paper towels to wipe your hands.
Step 3
Treat the canvas with gesso. You do this by pouring a bit of the gesso into a dish and dipping a sponge brush into the mixture. Add two coats to the canvas. This step is only necessary if you're starting with an untreated canvas. If you've purchased a ready-to-use canvas from the arts and crafts store, then it will come with a coat of gesso already on it.
Step 4
Allow the gesso to dry. Follow the instructions that came with the gesso bottle.
Step 5
Prepare the decoupage by mixing modge podge with water. Follow the instructions on the bottle for the measurements.
Step 6
Cut out any decorative elements you'd like to see on your craft project and glue them onto the canvas. Although the poster will be your main piece of art on this, you can add a decorative border by pasting newspaper, wallpaper, pretty stationery or other types of decorative papers to the edges of the canvas. For this to work, make sure that you purchase a canvas that's slightly larger than the poster. This leaves room for the decorative border. For this to look clean, make sure you glue down the paper for the border first.
Step 7
Let the decoupage border dry.
Step 8
Treat the canvas with a thick layer of the modge podge and water mixture.
Step 9
Position the poster so that it's centered on the canvas. You may need an extra pair of hands for this. If so, have your partner hold one side while you hold the other. This will ensure that the poster will remain intact while you get it into position.
Step 10
Smooth down any wrinkles that might have formed under the poster.
Step 11
Allow the modge podge mixture to dry.
Step 12
Coat the poster with two coats of the modge podge mixture, allowing each coat of the decoupage glue to dry before you put down another coat.
Step 13
Spray a coat of shellac on the canvas to treat it.