Things You'll Need
Acetate

Alcohol inks

Ink blending solution

Waterbrush

Paper towels

Pen

Palette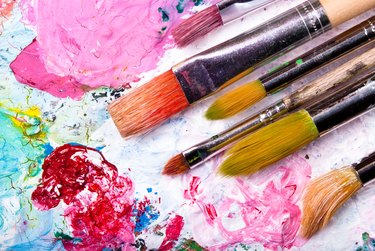 Alcohol inks are highly pigmented painting inks They look a lot like watercolors, but dry more quickly and have more natural variation in color and texture. Also, unlike watercolors, they work well for painting on acetate paper. With acetate paper, you can create paintings to hang against windows or other light sources and act as stained glass.
Step 1
Sketch the image you want to paint onto the shinier side of the acetate paper. You can trace it from a book or picture, or draw your own. Use a black pen for the most contrast or a pencil if you want the lines to appear subtle. Turn over the paper and paint on the slightly more matte side of the acetate. You can also work with plain paper of any kind.
Step 2
Insert ink blending solution into the hollow waterbrush. This mixes with the alcohol paint to produce the characteristic watercolor effect. Use only enough to wet the tip of the brush at first -- you can add more as needed. Dab the tip on a paper towel to make sure it's not too wet.
Step 3
Dip the very end of the waterbrush into one of the alcohol ink bottles. Alternatively, pour a few drops of different colors of the alcohol ink onto a palette.
Step 4
Paint as you would with watercolors. The colors will blend together more if you add new colors while the originals are still drying. Alternately, if you let each color dry completely, you'll have more distinct patches of hues. Experiment with adding slightly more ink blending solution for a lighter color, or less for more pigmentation.
Step 5
Let the image dry completely -- usually about five minutes -- before touching it with your fingers or using it elsewhere. Trim it and hang it in a window or use it on a note card or journal.
Tip
Use alcohol ink without the blending solution for bolder colors without the watercolor effect.
Rubbing alcohol can be substituted for the ink blending solution.
For a highly blended background, dampen the surface first before adding ink. The colors will flow into each other and blend together.