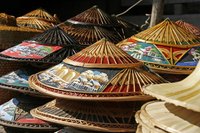 A cone is a three-dimensional shape that tapers from a flat, circular base up to a pointed apex. Making your own cone can serve myriad purposes, from educating young children on geometric shapes to building part of a model to creating a costume accessory. All you need is a light, thin piece of cardboard, such as the side of a cereal box, and a few simple items found in most houses.
Things You'll Need
Recycled cereal box
Scissors
Open a recycled cereal box, gently pulling at the seams until you have a flat piece of cardboard.
Draw a large isosceles triangle onto the plain side of the cardboard with a pencil. Make the two equal sides straight lines and the third side curved. Your triangle will look like a wedge-shaped piece of pie.
Cut out the triangle along the pencil guidelines.
Shape the cardboard triangle into a cone by slightly overlapping the equal sides and taping along the seam with duct tape.