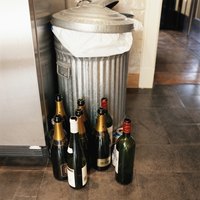 Instead of recycling wine bottles, you can easily re-purpose them with paint into colorful home accents such as vases and candle holders. Regular spray paint creates a smooth finish free of brush strokes. Or, use a spray chalkboard paint to create an ever-changing display you can write on. Paint the bottles in a well-ventilated work area, ideally outdoors, and wear a dust mask to avoid breathing in paint fumes.
Things You'll Need
Bucket (optional)
Dish soap
Water
Nylon scrub pad
Citrus-based sticker remover, if needed
Paper towels
Newspapers or plastic tarp
Rag
Painter's tape
Multi-purpose spray paint in desired color
Dust mask
Rinse the bottle out several times to help remove wine residues.
Fill a sink or bucket with warm water, adding a squirt or two of dish soap. Submerge the bottle and its mouth so water enters the bottle, keeping the label area under water. Allow the bottle to soak for an hour or longer to loosen the label.
Lift the bottle out of the water and peel off the label. Remove any remaining glue by rubbing your fingers or a nylon scrub pad over it. If the label is still stuck in place, submerge the bottle for several more hours. Scrub away all traces of the label and glue with the nylon scrub pad, then rinse the bottle thoroughly. Dry the bottle off with paper towels or allow it to air dry. If the label still won't come off, use a citrus-based sticker remover, then wash the bottle afterwards.
Cover a flat work surface with newspapers or a plastic tarp. Place the bottle on the paper or tarp in your work area. You can use a large cardboard box as a makeshift spray booth to help contain overspray. Set the box on its side, standing the bottle inside the box.
If painting only certain areas of the bottle, cover the remaining sections with painter's tape. Shake the spray can for a minute or so, then paint the bottle by holding the spray can 12 to 18 inches from it. Begin each spray burst slightly before one edge of the bottle and end it beyond the other edge, otherwise the paint may leave splotches. Move to the other side of the bottle, or turn the bottle gently by sticking your finger in its mouth, to paint the other side. Allow the paint to dry for 30 minutes or as recommended on the spray can before handling the bottle. Paint a second coat if the the paint color does not look consistent over the entire bottle.