Round up the whole family, bring your favorite characters to life, and get ready to hit the yellow brick road with nostalgia this Halloween with these easy Wizard of Oz costumes. You won't have to spend much money, if any to make these budget friendly Wizard of Oz costumes.
Step 1: Wizard of Oz Lion Costume
Start with a yellow sweat suit or simply wear a yellow top and matching bottom. Add a furry mane and tail for a fiercely cute ensemble! You won't get a badge of courage for tackling this easy-to-make Wizard of Oz costume, but watching your little one roar and jump around the neighborhood will be reward enough.
Step 2: Make the Scarecrow Costume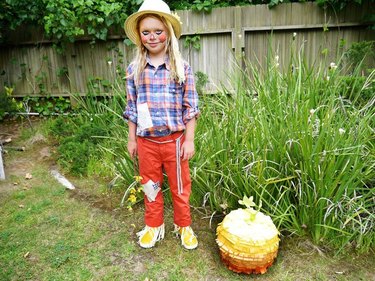 Make this no-sew Wizard of Oz scarecrow costume in no time at all with everyday essentials like a straw hat, a plaid shirt and pants. You can accessorize your scarecrow by adding raggedy accents like yarn and fabric patches for an authentic look.
Step 3: Dorothy With Toto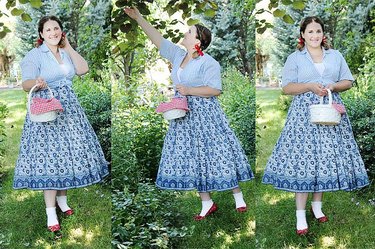 Dressed up as Dorothy, you'll be all set to search for the wizard -- or hunt for candy! From the classic blue and white checked gingham pattern to the iconic glittery red ruby slippers, this costume looks like it's fit for the silver screen. But you can easily pull it together on the cheap with items from your local thrift store. Apply sparkly red paint and add glitzy sequins to the shoes to create ruby slippers for an authentic Dorothy look.
4. Wicked Witch of the West
You don't need an army of monkeys to help you create this perfectly bewitching Wizard of Oz costume. Work your black magic on any clothing combination to create a black outfit and then add green face paint and a broom made out of branches to become ​the wickedest witch that ever was​.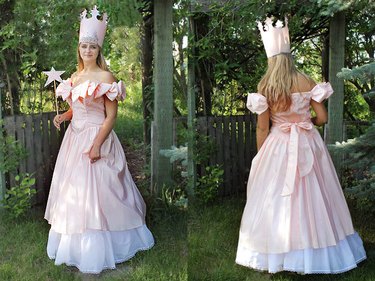 No one will doubt you're playing sorceress when you make a grand entrance in this dazzling no-sew Glenda the Good Witch costume. All you'll need to do is to glam up an old pink formal dress with homemade details like a tulle skirt, jeweled crown and sparkly wand.
6. The Witch's Flying Monkey
All you need is a pair of wings, a t-shirt, a hat and a few basic craft supplies to send your winged creatures off into the night to terrorize the other Wizard of Oz characters! Jeans and sneakers are perfectly acceptable for this easy Wizard of Oz costume.
7. Welcome to Munchkin Land
Got zero sewing skills? No problem. All you need to do is cut shirt sleeves and shorts in a zigzag pattern, pin felt to the collar for an adorable look that even the Lollipop Guild would approve of. For added authenticity, create a twisty hairstyle and add some rosy cheeks to your Munchkin.
8. Tin Man Wizard of Oz Costume
It doesn't matter if your crafting skills are rusty, you can put together this inexpensive Tin Man costume in just a few hours with a pair of sweat pants, some spray paint and a sewing machine. Your kid will love getting into this shiny Wizard of Oz costume.