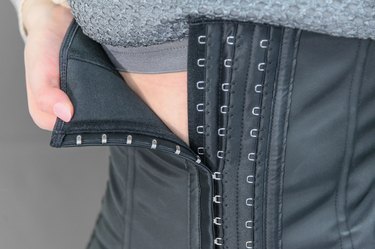 Many kinds of costumes and outfits call for corsets that draw in the waist. Luckily, if you're not a sewer, you can make a DIY no-sew corset. This craft involves just a little effort that leads to a lot of reward. Corsets are great for Renaissance-style clothing and can also be used as waist trainers.
You can make a DIY homemade corset using duct tape. For this, you'll need an old, snug-fitting shirt, three rolls of duct tape and scissors. Put on your shirt and make sure that it has a good, smooth fit; otherwise, you can pin it tighter toward the inside. Have a friend help you wrap the duct tape around tight enough to be uncomfortable but not painful. Then, have your friend cut off the corset carefully, starting at the top.
You can make the cut at the front or back depending on the style you desire. Next, cover the rest of the duct tape with vertical strips, taking care to keep it as smooth as possible. Make sure that the edges are covered with the tape. If you'd like, you can even use different-colored duct tape to create a design. Take a hole punch or large nail and create holes on either side of the opening, making sure that they match up evenly. Lace it up with study string or laces just as you would lace a pair of shoes.
DIY Homemade Waist Trainer
You can also make a DIY waist trainer from old jeans and a belt with grommets; however, this DIY requires sewing. First, cut off the legs of your jeans and measure your waist. Then, pin the pieces together and sew down with a straight stitch. Press the straight stitch down and then bring together the open ends of the material. Cut down the belt to fit the sides and pin it down onto the material.
Sew the belt parts very close to the edges of the openings. Finally, thread lacing through the grommets. If you don't have a belt with grommets to use for this, you can purchase strips from a fabric store or online. These may be much easier to work with.
For this DIY corset, you will need a corset pattern. There are plenty of these available online. This DIY also requires sewing. First, cut up the jean's inner leg seam from the bottom to the crotch and then lay them out flat with the right sides out. Put the corset pattern pieces on the denim, taking care to ensure that the pieces are all facing the same direction. Avoid worn or torn areas in the jeans.
Next, cut out the pattern pieces and do the same for the lining and inner layer. Stitch your panels together, making sure that all the seams are the exact same width. Stitch your inner layer with your lining (as one piece), and you will end up having a right and left half. Your closure can be made with hook and eye tape, which can be sewn into the front edges of your jean corset.
This corset is much more complicated to create. You can also add boning into the sides if you are an expert with a needle and thread. If you don't like the duct tape corset and are not good at sewing, your best option may be to buy one from your local Halloween store.