If you need a costume but are worried about time and resources, a snake would be a great option. A snake is a fun, unusual costume that is warm and quite easy to create. To make an adorable slithering snake costume, you need some supplies from home and a few supplies from a craft store.
Snake Starters
To make a snake body, begin with a sweatsuit in a color of your choice. Snakes can be any color from blue to green or even multicolored. If you choose to be a multicolored snake, use fabric paint to paint stripes or polka dots on a sweatsuit.
Snake Body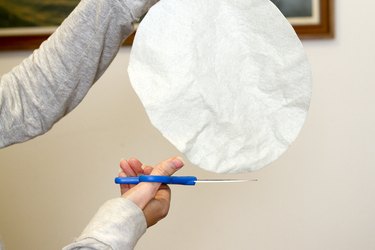 If you want a lighter-colored belly, cut out a large oval of felt. Use fabric glue to attach the felt oval to the belly of the sweatshirt.
It is not necessary to make a tail or hide your arms for this costume. Enclosing your arms and legs will only make it difficult to walk. People will recognize your costume even if your arms and legs are free.
Snake Head
To make a snake head, begin with a stocking cap that matches the color of your sweatsuit. At the craft store, pick up two Styrofoam balls that are roughly the size of a golf ball. These will be the snake's eyes. Use black paint to paint a small pupil in the center of each Styrofoam ball. Use a strong fabric glue or hot glue gun to attach the Styrofoam eyeballs to the top of the stocking cap.
If you want your snake head to look cuter, glue a red felt tongue onto the brim of the hat.
Snake Extras
To make your snake look extra special, wear thin gloves in the color of your sweatsuit. You can consider jazzing up your costume by adding extras such as a bow tie, a tutu or an apron. Your costume can be versatile depending on what you add to it.
Planning is Important
When creating a costume, it is important to plan ahead. Despite how easy it is to create this costume, if you are in a time crunch, it can become very stressful. Also, if this snake costume is for Halloween, it is important to get your supplies well in advance. Craft and costume stores sell out of supplies quickly.