Things You'll Need
Chicken wire

Tomato cages

Cotton batting

Duct tape

Spray paint

Battery powered small lights

Twine

Small model cars

Small model trees

T-shirt

Wire cutters

Hot glue gun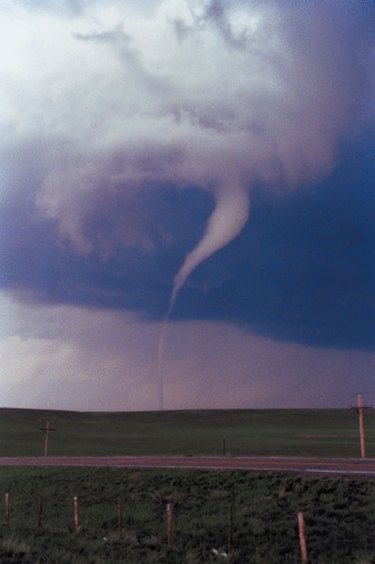 In October 2010, more than 1.5 million people tuned in to watch Discovery Channel's show "Storm Chasers," which follows teams of people who track tornadoes for a living. The sheer volume of people following the show indicates a growing interest in weather and tornadoes. A tornado costume is an unusual idea for Halloween or other events. You can make your own tornado costume with a trip to the hardware store and some work at home.
Step 1
Cut tomato cages apart. You will need two to three tomato cages, depending on the size of the person wearing the costume. Use wire cutters to cut them down the center and then expand the wires. The tomato cages should come together making a cylinder form. Secure the cages together with duct tape.
Step 2
Cut the chicken wire into rectangles that will cover each section of the tomato cage cylinder.
Step 3
Tie the chicken wire to the tomato cage frame with twine or wire. Shape the chicken wire around the cylinder, overlapping rectangles. Go through any overlapping rectangles when securing the chicken wire to the cylinder frame.
Step 4
Cut off any edges or cover them with duct tape so nothing will scratch the costume-wearer.
Step 5
Loop the battery operated light strings around the cylinder. Start at the top and wind the batteries clockwise around the cylinder. Secure the string with wire or twine and tape the battery pack to the inside of the frame. Make sure you can reach the on/off switch.
Step 6
Cut a white T-shirt to create straps. You will want to cut the cloth into long strips and fold them over several times. Secure the straps to the top of the tomato cage form with duct tape or wire.
Step 7
Lay the cotton batting on the floor and place the cylinder frame in the center. Wrap the batting around the frame and pull it through the top and the bottom. Tape the ends on the inside of the frame. The object is not perfection--you are creating a tornado, so if it is a bit messy, it will be fine.
Step 8
Spray paint circles around the tornado starting at the top and going around to the bottom. You are trying to give the impression of movement to the tornado costume.
Step 9
Place small trees, cars and houses on the costume with a hot glue gun or twine.
Tip
Measure the person wearing the costume before you put the straps on. You will also want to have him stand in the cyclone and make sure he can walk properly and handle stairs. If leg room is lacking, cut the chicken wire at the front of the costume and just have the cotton batting hang down over the empty area.