Things You'll Need
Vampire fangs

Washcloth

Putty or putty powder solution

Water * optional

Hand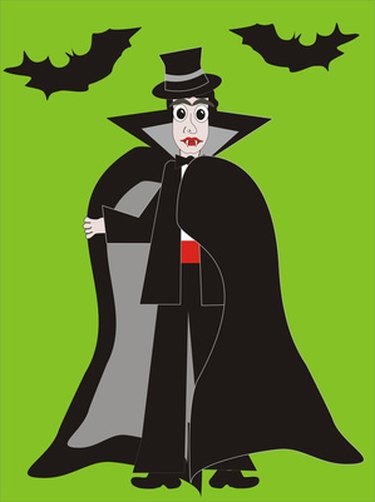 The recent television, cable, and theatrical hits involving vampires have given rise to the need for vampire costumes featuring realistic and terrifying fangs. Many vampire fang products are available for purchase at costume, Halloween, and theater prop stores. Depending on the quality of the product and packaging, you can expect to pay anything from a few dollars to a wallet crunching expense. Some fang products approach professional dentistry standards. Most vampire fangs can be purchased for under twenty dollars and are applied with a putty solution.
Step 1
Remove the vampire fangs and putty from the packaging. Some products have putty in a little bag and others feature two separate bags of putty or putty powder, and sometimes these are packaged in miniature coffins of wood, plastic, or cardboard.
Step 2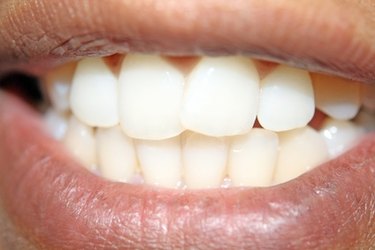 Rub your two canine teeth dry with a clean, dry washcloth. Your two front teeth are your central incisors. On each side of the two front teeth are your lateral incisors. The canine teeth are the teeth next to the lateral Incisors. These are the teeth commonly represented as fangs in movies and art. Some people choose to insert the fangs onto their lateral Incisors.
Step 3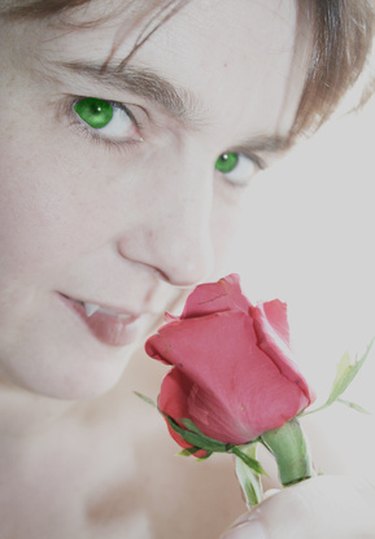 Open the bag or plastic container of putty. If the putty is in putty form, pinch off a pea-sized amount and place it in the palm of your hand. Roll the putty until soft. If the putty is in powder form, pinch a little powder and put it in the palm of your hand and add a drop of water, mixing with your finger until it forms a solid putty. If your product contains two bags of putty, combine a pea-sized amount of putty from each bag, rolling it in your palm until the putty is the same color and warm. The putty will be ready to use in less than a minute.
Step 4
Push a pea-sized amount of putty into the hole in one fang. The putty should overflow the hole.
Step 5
Center the fang over your canine or lateral Incisor, inserting your tooth into the putty-filled hole in the fang.
Step 6
Push the fang up onto your tooth and hold firmly for about five minutes. Some products are meant for one time usage; other products claim to be reusable, fitting onto your tooth with a custom fit once you've allowed the putty to dry on your tooth.
Warning
According to Spirit Halloween Stores, you shouldn't eat or sleep while wearing vampire fangs. Vampire fangs can pose a choking hazard and should not be worn by children under twelve years of age.