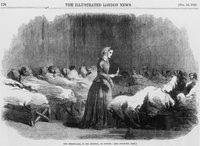 One of the most well-known nurses in history, Florence Nightingale used compassion and kindness when treating her patients. She earned the nickname "The Lady with the Lamp" by treating her patients into the night. Nightingale helped start the first official nursing program and was a proponent of women's rights. If you want to recreate a Florence Nightingale costume, you can do so easily with a trip to your local thrift or costume store.
Things You'll Need
Long-sleeved colonial blue dress
White pinafore
Red electrical tape
White stockings
Black dress shoes
Nurse's cap
Wear a long-sleeved, long colonial blue dress. Preferably, use a dress with white cuffs on the sleeves and a white band under the collar. Alternatively, make your own dress using a pattern from a local craft or fabric store.
Slip a long, white pinafore over the colonial dress.
Attach a red cross to the top front of the pinafore. Cut two pieces of 1-by-3-inch pieces of red electrical tape. Intersect the pieces of tape to create a cross. Press the cross to the pinafore, centering it on the top section of the pinafore. Although she was not a part of the Red Cross, Nightingale's generosity and compassion influenced the creation of the Red Cross organization. The cross symbol helps identify the look.
Wear a pair of white stockings and black dress shoes.
Brush your hair back from your face. Secure it in a loose bun at the nape of your neck.
Finish the look with a nurse's cap or bonnet.