Unless it's a party full of nursing school students, you're bound to be the only one wearing a Florence Nightingale costume at your next Halloween party. The founder of modern nursing is certainly an important historical figure, but her heavy Victorian garb is a far cry from the scrubs or white dress that most people today would think of as a nurse costume. She wore long dresses in dark colors while she tended to patients and trained the first generations of modern nurses.
A DIY Florence Nightingale Halloween costume only requires a few key elements, though they may not be items you already have in your closet.
Here are a few core items to assemble your DIY Florence Nightingale costume:
Long black dress
White cap
Sash
Apron
Dark, flat shoes
Lantern
Who Was Florence Nightingale?
Make sure you know some background facts before dressing up in historical costumes! Florence Nightingale (1820-1910) was a British nurse who cared for soldiers in Turkey during the Crimean War. She established a basic standard of care for the patients at Scutari Hospital, leading a group of nurses to ensure that injured soldiers were adequately fed, cleaned, clothed and occupied. She would often wander the dark hospital at night to check on patients, earning her nickname "the lady with the lamp." After returning to England, Florence committed her life to developing nursing standards and training new nurses. Some nursing school graduates still honor her legacy by taking the "Nightingale Pledge," akin to the Hippocratic oath taken by new doctors.
Find the Florence fundamentals
Florence Nightingale didn't have a lot of variation in her wardrobe, it seems. She was often depicted in drawings, paintings and eventually photographs, usually shown wearing ​dark dresses with long sleeves, high necklines and full skirts​. Florence Nightingale is most synonymous with black, though the nurses at Scutari Hospital wore gray dresses.
If you can't find a long black dress with long sleeves, pair a long skirt with a black top. The neckline should be either crewneck (like a T-shirt) or a modest scoop or V-neck. You may add a white dickie collar under the dress if you wish, though it may make your costume too warm. Add a tulle petticoat under the skirt to add volume if necessary. Any flat, dark shoes should work since your shoes shouldn't even be visible under your long skirt.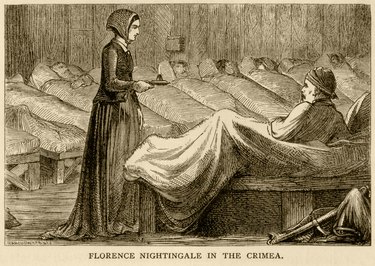 What to Wear Under There?
The nurses at Scutari Hospital wore their dresses with stays, a kind of undergarment that's similar to a corset but even more structured. It's probably not super comfortable when trying to take care of patients. There's no need to wear a corseted dress unless you're really committed to historically accurate cosplay.
Add a cap, sash and apron
Florence Nightingale is credited with having created the first nurse's uniform, requiring the nurses at Scutari Hospital to wear their gray dresses with white aprons and sashes with "Scutari Hospital" in red script. Adding a white pinafore-style apron to your dress will help sell it as a Florence Nightingale costume, though it's not strictly necessary. A sash is also optional.
A head covering of some kind is an essential part of your costume, though. Florence was typically depicted wearing a white cap. Buy or make a Victorian-style lace cap or pin a lace handkerchief to your hair as a DIY solution in a pinch.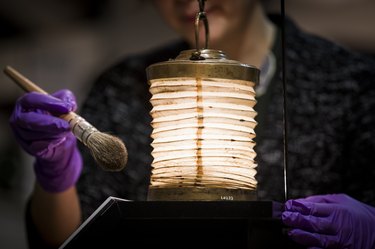 Become the lady with the lamp
No Florence Nightingale costume is complete without her most famous accessory. During the Crimean War, Nightingale carried a Turkish oil lamp called a fanoos, which had accordion-style folded pleats. She could push down the sides of the lamp, light the base and carefully raise the sides back up to let the light shine through the pleated material.
You're unlikely to find a similar lamp for sale (unless you shop the Florence Nightingale Museum gift shop), but you have a few options for replicating Florence Nightingale's lamp. Carry a handheld, battery-operated lantern that looks at least somewhat old-fashioned or make an accordion-style paper "lamp" as a craft project.