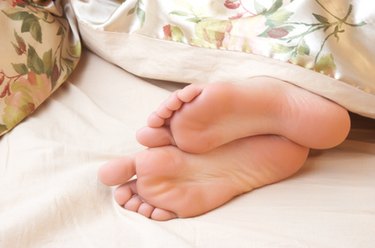 A sleepover party becomes a bit more difficult as your kids become teenagers. Girls and boys will start dating and they'll ask to have mixed-gender sleepovers. Some of the kids will insist on staying up all night long instead of a 2 a.m. curfew. Whatever rules and regulations you decide to set, there are some fantastic ideas to follow to make your child feel like she had the perfect sleepover.
Decorations and Invitations
Once kids reach high school, it is no longer necessary to create a fabulously decorated invitation (especially for the boys). The important thing to consider with the invitations is that they provide detailed information and they express any theme you might be planning like a movie night or a game night. Likewise, keep decorations casual like a few balloons here or there. Ask your child what she would like for decorations and you may get her to be much more active in their creation than she was for previous birthdays.
Food
This is an age in which guys will be eating large quantities of food and the girls may eat hardly anything at all. Keep enough healthy food present throughout the night so that all kids present are satisfied. Vegetable trays, fruit platters, string cheese, yogurt and reduced-fat crackers and pretzels are good choices for the bulk of the food. Keep some candies and fatty foods available in minimal quantities. Teenage boys will probably not care much about any special cake shape but the girls may want a cake shaped and decorated like a bed or a sleeping bag.
Activities
For teenage boys, activities can consist of video games, movies and just general hanging out. The girls may desire those things as well, though you can frequently get more creative with their activities. Have them create their own T-shirts by using white T-shirts and tank tops and iron on letters. They can also decorate pillowcases with markers, fabric pens and more iron-on letters. While boys are stuffing their face in their party, girls can decorate theirs with makeovers, spa peels and facials. Both groups will enjoy chatting about the opposite sex and life in general.
Games
For a mixed-gender sleepover, spin the bottle is one of the most popular games. Another popular game is truth or dare. While the teens will more than likely not wish to be supervised during these activities, it is best to keep a watchful eye or to let an older brother or sister keep watch. There are plenty of card games that can be played like poker, Egyptian Rat Screw or War, which work well with a large group of people. One game that the teens should enjoy is called Don't Spit. In this game, one teen fills his mouth with water while the other teens take a turn trying to get the teen to spit the water with laughter.