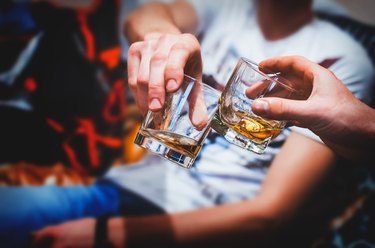 Things You'll Need
Food

TV or DVD collection of "Grey's Anatomy"

Grey's Anatomy trivia game

Toilet paper -- 1 roll per guest
The refreshments, number of guests and the length of the party will most certainly vary, but the unifying feature of a "Grey's Anatomy" party is that people can spend some quality time watching their favorite show together. Plus, you've got entertainment built it, and it's an alternative for Grey's fans who would like to take a break from attending yet another football or basketball night.
Send out invites for your "Grey's Anatomy" party. Buy crisp, black-and-white invitations and write on them with a red felt-tip pen. Or get creative with an invite that emulates a medical chart. Use the header "LABS" to get giggles from true "Grey's" fans.
Like most gatherings, this party will be easier on the host or hostess when they know how many warm bodies to expect in attendance. Be sure to request your prospective guests to RSVP in plenty of time to allow you to make adequate plans and arrangements.
Prepare Your Guests in Advance
Decide on a start and end time for your Grey's Anatomy party and let guests know if they need to bring anything. For example, is it a sleepover? Is it Bring Your Own Booze (BYOB)?
Load up on supplies. In honor of Meredith Grey, tequila is a must for a "Grey's Anatomy" party. Of course, mix it up with soda, beer and wine (or just stick to a BYOB policy). Food selections should depend on the Grey's fans present. Consider a run to McDonald's for some McSnacks in honor of McDreamy.
Decide what to watch. Options include a season premier, a season finale, a sampling of favorite episodes or a marathon of a particular season.
Or have each "Grey's" fan name their favorite episode when they RSVP. This way, you can tailor your party to your guests. Or just prepare for a new season by watching an entire recap of the previous season on DVD.
Play trivia. The "Grey's Anatomy" trivia game is an entertaining ice-breaker for die-hard fans, and gets people into the mood of the party while refreshments are prepared and guests start to trickle in. The "Grey's Anatomy" trivia game is available online (see Resources) and at most retailers that sell board games (call ahead before heading out to the store to confirm its availability).
Toilet Paper Gown Contest
Hold a "Grey's"-themed contest. After you've all watched a few episodes and had a few drinks, take a break with a toilet paper bridal gown contest in homage of the show's third season finale when the girls held a bachelorette party for Christina Yang. In this informal contest, each "Grey's" fan crafts a wedding gown for herself made solely from a roll of toilet paper.
For conservation purposes, consider reusing the toilet paper to clean up after your party, or toss it all into a recycling bin. Pick a designated person to pick the winning dress, and have a prize for the winner--how about a "Grey's Anatomy" DVD set?