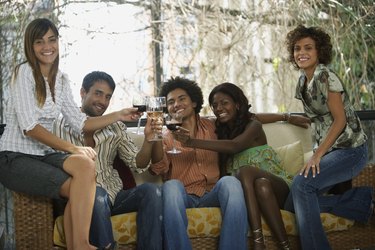 Create a special event for your returning family member or friend with an edited guest list, a personalized menu and a relaxed atmosphere. After being away for an extended period of time, the guest of honor will appreciate an intimate gathering with the people she has missed the most. This approach also saves you time and money because the planning is not as intense. Pick a location for the welcome home party, and then make a list of everything you need from who to invite to what to do.
Invite Your Guests
Decide how many people you want to have at your welcome party before writing your guest list. A small crowd is a good choice to avoid overwhelming the guest of honor. Avoid open invitations so you know the approximate number of people to expect. Mail casual cards or send digital invites addressed to close friends and family to let them know about the party.
Create the Menu
Choose simple, bite-sized food that easily is prepared and eaten when planning the menu for a welcome home party. Ask the guest of honor which dishes he missed the most and include individual servings of them on the menu. Possible options include miniature muffins, individual pizzas and desserts-in-a-jar. These are foods most people enjoy and are fun to eat.
Decide on Decorations
Consider where the guest of honor has been when decorating the party space. A returning veteran may appreciate a patriotic theme with red, white and blue accents. For a college student returning to her hometown, include university memorabilia. With the focus of the party on welcoming back your family member or friend, basic decorations are all you need. A welcome home banner, balloons and flowers to match the theme are festive without being over the top.
Make a Playlist
Fill your party playlist with upbeat music to inspire a feel-good mood. Keep in mind the age of party guests and include a variety of music from top 40 hits to rockin' oldies. If you know favorite songs of the guest of honor, mix them into the rotation. Use a website such as YouTube to compile your songs, and run through the entire playlist before the party to make sure it flows well.
Plan for Activities
Structured activities aren't required for a welcome home party but having a few things to do keeps the party going smoothly. Ask the guest of honor and some party-goers to say a few words once the initial meet and greet time slows down. Create a slideshow of photographs taken from the guest of honor's travels to show throughout the party. For interactive fun, set up a DIY photo booth, where everyone may take a photo with the guest of honor. Or play a game that focuses less on winning and more on having a good time. Ice-breaker games such as Telephone Pictionary and Who Am I are free and should have everyone laughing.