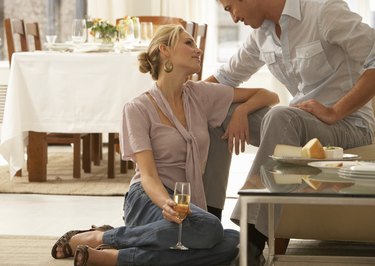 The idea of sipping pinot and snacking on gouda sounds like a real treat. When you start to get ready, however, the panic sets in when you begin wondering what to wear. The location, time and host's preference largely dictate the dress code for a wine and cheese party. Ask the person who invited you what kind of outfit to wear; if that's not possible, ask other guests or make an educated guess based on the party details.
Determine the Dress Code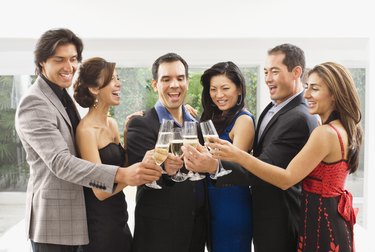 A wine and cheese party can be quite formal, particularly if it's a fundraising event at a restaurant or hotel, or it can be a rather informal event hosted at a friend's residence. The first place to go for dress code advice is to the host of the event. If she's not available or it's an organization rather than a person putting on the party, take a clue from the details. If it's after 5 p.m., the party is likely more sophisticated and calls for attire to match. Additionally, if this is an event that will be photographed, such as a charity fundraiser, dress a little bit more elegantly than you might for an apartment gathering.
Elegant Options for Women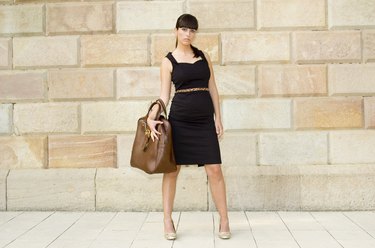 For a classy yet safe look for women, fashion blog Short Presents recommends choosing a black or white outfit with an interesting piece of jewelry. Only a few occasions would require a true formal outfit, such as a floor-length gown. Rather, for your wine and cheese party, choose a little black dress or black pants, a colorful cardigan and sparkly jewelry. If it's chilly outside, add a pair of opaque tights and heeled booties, suggests "Real Simple."
Keeping It Casual for Women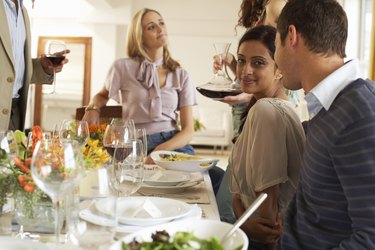 If the host insists that an event is casual, don't don sweatpants and a T. Instead, pair dark jeans with a trendy top and colorful heels; if the weather is cool, add a tailored jacket. According to "Real Simple" magazine, the goal it to look polished but not uptight. When the host declares that you must "come as you are," it's best to at least throw on jeans, a casual blouse and ballet flats. If you're accident-prone and enjoy drinking red wine, choose a dark-colored top -- it's less likely to show spills.
Attire for Men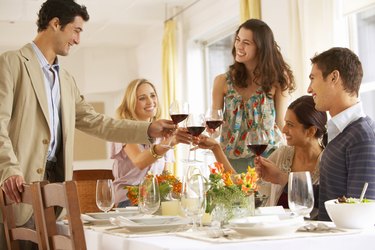 For an upscale event, a man can never go wrong with a well-tailored suit. When you're not sure of the formality of the event, khakis and a button-down often toes the lie between dressy and semi-casual. For casual events, keep it classy by pairing jeans with a blazer and untucked oxford shirt -- aim for a date-night style. If you want to stay super-casual, make sure your jeans and T-shirt are wrinkle- and stain-free. Wear boots or good moccasins to stay stylish from head to toe.