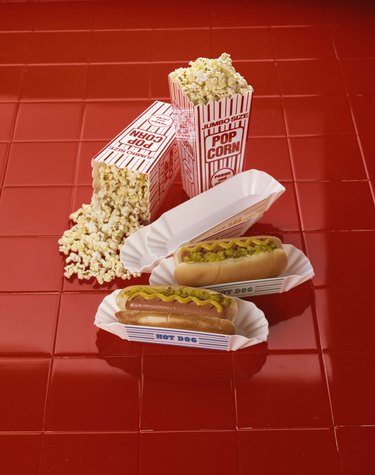 Don't let bad weather ruin your party plans; instead, make the most of being inside by holding an indoor carnival. Whether you want to celebrate your kid's birthday or need ideas to keep your children active indoors, an indoor carnival is an ideal way to enjoy activities in your home. You can use a carnival theme for your invitations, decorations, entertainment activities and food. Enlist the help of your friends to create an indoor carnival at home.
Invitation Tickets
Prepare party invitations in the form of a carnival admission ticket. Cut out ticket-shaped rectangles with card paper; create a border around the ticket with a bright-colored marker pen to enhance it, and write the details of your indoor carnival party in the center. Ask your guests to bring this ticket for admission to your party. Alternately, you can include other tickets with the invitation that your guests can redeem for food and games, similar to a "real" outdoor carnival.
Decoration Ideas
Recreate the bright and lively outdoor carnival atmosphere indoors by decorating your house with colorful buntings, banners and balloons. Tie threads around the balloons and anchor them with weights in different areas of your home or attach them to the backs of chairs. Extend the carnival mood to your tableware by using bright red-, yellow-, green- and blue-colored party plates, napkins and table runners. You can also ask a friend to dress as a clown and hand out sweet treats or balloon animals to your guests.
Entertainment Booths
Set up separate booths for the various entertainment activities. Cover a table with a sheet and place a brightly colored placard over it that states the name of the game. Offer a choice of games. Possible games include: karaoke singing; hoopla, in which participants throw a ring around objects to win prizes; darts, where you must pop balloons to win; and can knockdowns, in which you must knock down the most cans from a pyramid constructed of cans to win.
Food Stalls
Designate a separate table for food in one area of your room. Offer guests a variety of carnival foods, ranging from popcorn served in the traditional red-and-white box, to snow cones, frozen pops, cotton candy, nachos and french fries, to hot dogs, hamburgers, chicken strips, lemonade and ice cream. You can purchase bags of ready-made cotton candy or rent a cotton candy machine and hand the candy out on sticks, just as at a carnival. Set out your carnival-themed napkins and paper plates and serve ketchup and other condiments alongside the hot foods.