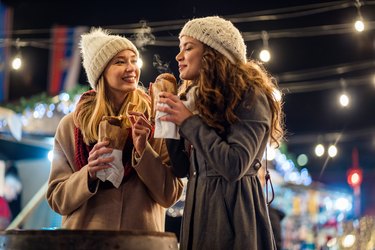 A beautifully decorated Christmas lightpost can look festive and inviting, and in many cases, it can be done in a matter of minutes. If you want to make one from scratch, that will take longer, but it will be a treasured Christmas lamppost decoration that you can have for years and pass down to the next generation.
You can make a DIY lamppost with materials from a scrap lumber bin. Use an 8-foot porch post and add the base and lantern from different-size pieces of wood. Clamp the feet onto the base first and then drill a hole in the back and insert a dowel rod. The frame for the top lantern is made from pieces of wood, and you can then attach acrylic glass to the inside before closing it up.
Once the Christmas lamppost is put together, use a paint/primer combo spray paint with an oil-rubbed bronze finish. You can use another color instead if you prefer, like black, red, white or green. Once the paint is dried, this tall lamppost will be stunning in entryways and beside staircases. You can add a few hooks on the lamppost to enable hanging lights or other decor.
Wreaths and garlands look especially nice on holiday lampposts, and you can also hang things from both sides of the dowel. Try suspending a ribbon from the post and place greeting cards on it. If you're not handy, you will be able to find a huge variety of indoor lampposts in stores and online in many different colors and sizes. Some come already decorated, which makes it much easier to create a festive look.
Outdoor Christmas Lampposts
If you already have a lamppost outside your house, there are plenty of ways to decorate it for the holidays. You can make a large bow out of a wide Christmas ribbon and cut off some foliage from your favorite tree. It does not have to be a pine tree. Some people like to use other foliage, like a piece of a magnolia. You can then add some bright red berries from a nandina bush or something similar.
For this kind of decoration, you will need to use easily seen materials to be seen from a distance. Lay a length of ribbon on a flat surface and place the greenery in the middle. Top that with berries and allow them to dangle. Wrap the bow around all of this to secure it and then you can wrap the whole thing around the lamppost under the lantern with the decoration facing the front.
There are many more Christmas decor lightpost ideas on sites like Pinterest. For example, you can use three wreaths (small, medium and large) and attach them to the post in that order, starting at the top around the lantern. Put a snowman's face in the middle of the smallest wreath with a scarf wrapped around his neck and some white rope lights strung in.
You can also put a Santa hat on top of the lantern or attach greenery topped with Christmas ornaments. Many people also wrap thick ropes of greenery around the post or use brightly colored, wide ribbons that wind from top to bottom.