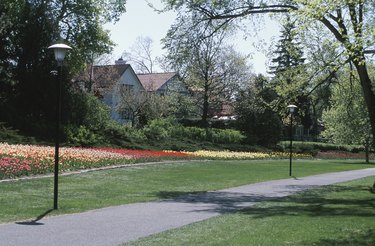 A lamp post in the front yard provides an ideal opportunity to add some Christmas spirit to the landscape. Even a simple decoration added to the lamp post makes it more festive, drawing appreciation from neighbors and passersby for your holiday spirit. For a unified look, choose decor that fits well with other Christmas items you place outside your home.
Lights & Bows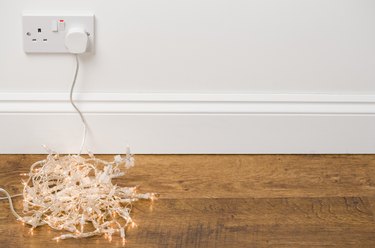 For a simple decoration idea that goes with nearly any landscape, add lights and bows to the lamp post. String lights in a spiral or vertical pattern to cover the lamp post and the base. White or colored Christmas lights work equally well. You can also choose rope lights or chasing lights if you want something with more pizazz. Complement the lights you're using in other areas of the landscaping. Sticking with the same type of decor makes the display look more coordinated. Place a bow right below the light itself to dress up the display.
Wreath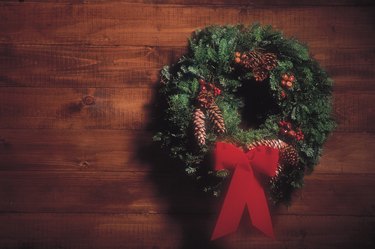 Another simple option is to hang a wreath on the lamp post. There are several options for style and look. Choose the size of the wreath based on your lamp post size. A giant wreath on a small lamp post will look too big, while a small wreath on a large lamp post might get visually lost. Real pine wreaths and artificial wreaths work equally well, so use whatever you prefer.
Candle
This decorative idea adds a little more creativity to the lamp post decoration. Turn the entire lamp post into a giant candle with the light posing as the flame of the candle. Wrap the post with colorful cellophane or foil wrap. Add a bow around the middle as an accent. The top of the lamp post creates the flame. Wrap yellow cellophane around the top portion of the light, tying it into a point at the top.
Christmas Covers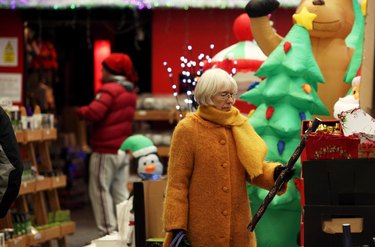 Purchase a specialty lamp post cover in a Christmas shape. These holiday covers fit over the light part of almost any lamp post. They are about 2 feet tall and 2 feet wide, making them a very noticeable.
Garland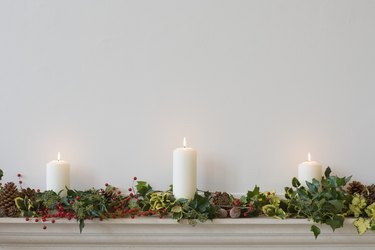 Choose garland made from a material that will stand up well to the weather. Pine garland, either real or artificial, is a good choice. Another option is to choose a vine garland with winter berries on it. Twist the garland around the lamp post, securing it at both ends with wire. Combine this decoration idea with lights and bows for a better effect.