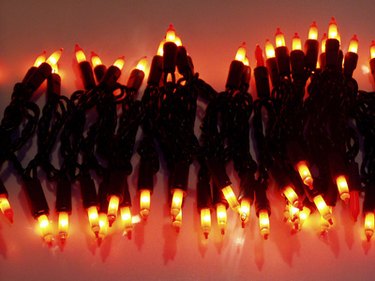 Putting up holiday lights can be time-consuming and challenging, but you can make it easier with PVC pipe Christmas lights. You can wrap rope lights around the pipes, and you can use them inside your house, outside your home and in homemade frames. Spread some holiday cheer with this simple trick.
Using PVC pipe lights is much easier than working with hundreds of clips when hanging up holiday lights. To get started, you have to measure and write down all the sections where the lights need to go up, including any open space between places, like horizontal roof lines to eaves. Buy enough 1/2-inch PVC pipe for each area. It is usually sold in 10-foot sections. In addition, you will need a hacksaw and some broom clips. When you cut each piece, mark it to indicate where it needs to go.
After the PVC pipes are cut with the hacksaw, use separate lines and bulbs for the sections. Start at one end of the pipe with the light strand's plug and start wrapping it around. Use 6-inch zip ties to secure the lights as you are going, cut the cord at the end and seal it with a waterproof wire nut. For corners, you can leave some of the lights hanging; the lights will fill in those spots visually.
You can then use broom clips to support the PVC pipe pieces. Use a drill to attach the clips to the outside of your house and snap in the pipe pieces. You can connect the light rope strand plugs with extension cords before plugging them into your outlets.
PVC Christmas Lights Window Frame
PVC pipes also make it easier to light up window frames. Use 1/2-inch PVC pipe for this and measure the window frame first. The four PVC pipe pieces are cut down with a hacksaw and connected with two-way 1/2-inch PVC connectors. Then, attach the lights with zip ties.
You can also use a similar technique to create a giant lighted gift box with three-way or T-shaped 1/2-inch PVC connectors. These frames are then formed into cubes with additional connectors, and LED mini lights are secured with zip ties. Cover the cubes with measured fabric and connect that to the pipes with Velcro. Attach some ribbons and bows and plug in the lights for a lovely effect.
There is yet another way to make a window frame for Christmas lights using plastic lattice framing instead of PVC pipes. Measure the windows for which you want to make frames and then get plastic lattice framing (buy some extra for mistakes), four L brackets (per frame), a drill, a flat-head screwdriver, a handsaw and C7 Christmas light strings.
To put a frame together, cut the lattice framing pieces at 45-degree angles, drill pilot holes at the corners and attach the L brackets. Check that the frame fits properly and then unpack a string of the lights and test them. Push each of the light sockets into the channel of your frame. You can gently nudge them in with the screwdriver.