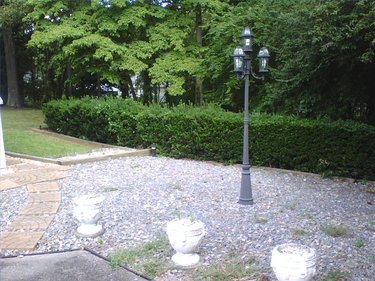 From lighting a dark walkway or driveway to adding accents to a patio or pool area, outdoor lighting is an efficient and cost effective way to improve the look of your home. While you could hire an electrician to do the work for you, installing an outdoor lamp post can be accomplished over the course of an afternoon with a few simple tools and a trip to your local home improvement store.
Check Local Ordinances
Finding out your local ordinances can be as easy as contacting your local county office or checking the internet to see if your county has the applicable regulations posted. Municode.com lists most codes for most counties in the United States. Violation of local building ordinances can result in legal penalties.
Draw Up A Landscape Plan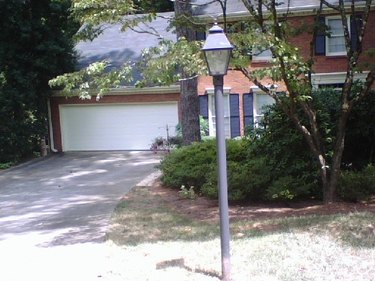 Different styles of lights are better for different things. For example, according to Solar Power At Home, "A beautiful and reliable way to keep your pool area safe at night is to install lamp posts powered with solar energy around the pool deck. The height of a lamp post works perfectly to light above ground pools at the same time as keeping your yard safely navigable." On the other hand, mini post solar lights tend to work best around plants or trees as they are low enough to the ground to still be able to charge all day while providing good quality free lighting all night. The most efficient way to decide what lights are best for your area is to observe your yard in the daytime and after dark to see what areas need light the most and which get the most sunlight during the day. Draw up your plan and take that to the home store to avoid a lot of guesswork and unnecessary returns.
Choosing the Style of Light
Once you've mapped out your lighting strategy, you'll need to decide what style lamp and post you want. Aside from aesthetics, the main decision you'll face is whether you want a solar-powered or low-voltage light. Solar lighting has the advantage of being easier to install and of course provides free light. According to home improvement site House-Garden, "All you need to do is decide where you want to install a light, stick it in the ground and you are done. If you decide you don't like that location, just pull it up and move it. No new wiring to run or move. No timer to set and no difficult connections to worry about." If you choose to go with a low-voltage option, you'll need to make sure your intended location is reasonably close to a power source unless you plan on running cable underground to a box and enclosing it in a weather-proof structure.
Gather Tools and Materials
Your tools will include a set of post hole diggers, a shovel and a wheelbarrow to carry any gravel you plan to add into the bottom of your hole.
Standard materials for this project include a landscape plan or drawing, a wood or aluminum lamp post, photo sensor and a lamp head. If you decide to mount your lamp post on a base, you will also need bolts to secure the post to the pedestal base. In-ground installation needs no base. Low-voltage lamps will also require a battery pack, power cable and some sort of easily accessible power source. You may or may not want to enclose your power cable in PVC conduit but I would recommend this option if your cable will cross a section of lawn that gets mowed. In this situation, bury the cable at least 18 inches below ground to protect it in the event you decide to install a fence and forget where the cable is buried. If this is your first time doing this project, ask for lamp posts that include most of the items mentioned. Otherwise you'll need to buy a photo eye lamp and a post adapter kit separately.