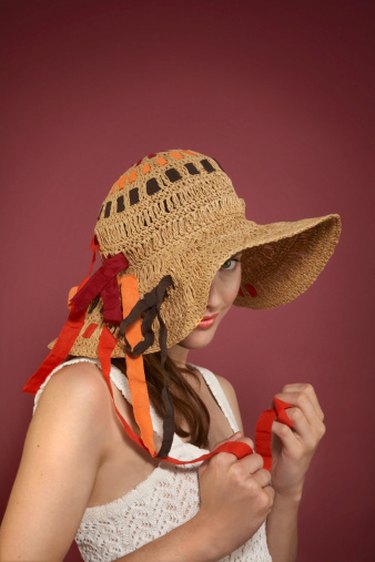 Tea parties are popular with females of all ages, from grandmothers to little girls. Many tea parties have a theme, such as a garden tea, a girls' night out tea, or a mother-daughter tea. One thing the gatherings often have in common is pretty clothing and wide-brimmed hats. Often, the hats are lavishly decorated to fit a season, occasion, or theme.
Ribbons
Use ribbons to create a unique look. Braid several ribbons together and wrap the braid around the crown of the hat, attaching it with hot glue. Let the ends of the braid dangle down the back of the hat. Or, use a straw hat with an open weave, and weave ribbons through the holes in the hat. Another option is to take small pieces of ribbons and make a fringe on the crown of the hat, again attaching the material with hot glue.
Flowers
Cover your hat with flowers for a look that is perfect for a garden tea. Choose one color and type of flower or use a riot of colors and flower varieties. If you prefer something less fussy, but every bit as elegant, add just one showy flower to the side of your hat.
Fabrics and Feathers
Fabrics, from lace to tulle, are a quick and easy way to decorate a hat. Attach lace around the edge of the crown, letting it dip down in the front for a flirty look. Or, create a large tulle bow and attach it to the front of the hat. Wrap a feather boa around the brim of your hat for instant drama, or use two or three tall feathers to add a vertical element to your hat.
Sparkle and Shine
Add dramatic sparkle to your hat by adding a broach, sequins, or glitter. Broaches make excellent embellishments to tea party hats. If the pin is broken on the back of your broach, use hot glue to attach it. Sequined elastic makes for a stunning headband around a brim. For more shine, use glue spray to make the hat sticky then sprinkle the area with glitter.