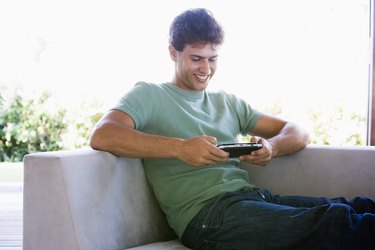 Choosing gifts for 21-year-old guys can be tough. They're somewhere between teenhood and adulthood, so you might not know whether comic books or a briefcase is a more appropriate gift. Figuring out what to get a 21-year-old boy – or young man! – starts with thinking about categories of gifts that he might like. If you get stumped, you can always fall back on the two things just about all young men love: cash and food.
Young men tend to spend a lot of time hanging out with their friends, so games they can play with a group make great gifts for 21-year-old males. Lawn games are a good choice if he's the kind of guy who's always inviting people over to grill. If he's more of a Dungeons and Dragons kind of guy, look for a new highly rated board game that he might enjoy learning to play with friends.
Video games are obviously a popular gift with many young men, but ask the recipient for direct guidance before buying something for a gamer. You probably can't choose a gift he'd actually love and be able to use unless you know what kind of console he has, what games and accessories he already owns and what kind of games he likes to play.
If he's a college student, he might be on the verge of having his first professional job and paying his own bills for the first time. A young adult can appreciate practical gifts in a way he might not as a teenager. You might want to choose things that don't seem exciting but that you know he'll be able to use.
As you think about what to get a 21-year-old boy, think about what his life might look like over the next year. Is he going to be furnishing his first apartment? Pick out kitchen essentials, like a skillet, mixing bowls and measuring cups, or a simple tool set. If he's going to be working really long hours at a job (or multiple jobs), buy a meal kit subscription so he can still have healthy, home-cooked food. Cookbooks, lamps, nice towels and sheets, kitchen gadgets and even cleaning supplies are other good practical gifts for young adults starting out on their own.
How does he spend his free time? If he has any notable hobbies or interests, draw gift-giving inspiration from them. If he's really into playing golf, give him a tabletop golf game that he can play anytime. An exercise nut who's always working out might like a new gym bag or water bottle or a month-long pass to an online workout subscription service so he can try new classes from home.
Is he into gadgets and electronics? The tech world tends to be a good place to look for gifts for 21-year-old males. Depending on his preferences (is he an Apple guy or an Android guy?), a young man might appreciate something like a new wireless charging dock or a Bluetooth speaker with an interesting design.
More Gifts for 21-Year-Old Guys
Do you still have no idea what to get a 21-year-old boy? Things he can eat or drink tend to make good gifts for 21-year-old guys. A gift basket packed with delicious snack foods and/or some alcoholic beverages is something most young men would love.
When in doubt, give cash along with a handwritten note. A typical young adult will never be unhappy to receive that gift. Gift cards for the grocery store, gas station and big-box stores are also perfectly appropriate gifts for 21-year-old males or anyone, really. The fact that they're practical doesn't make them any less thoughtful than something that needs to be wrapped in a box.