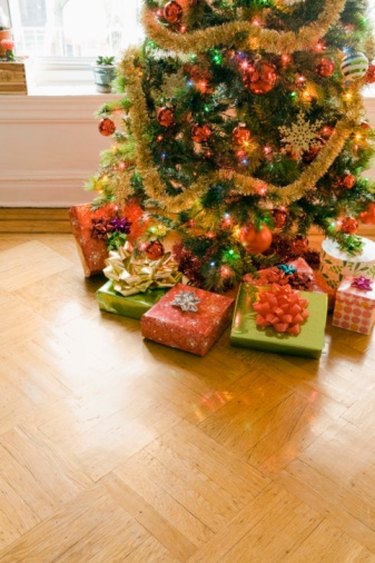 If you are a traditionalist who likes having a live Christmas tree, buy the tree first and then the stand. There are many Christmas disasters where families try to use their old or favored stand to support an 8-foot tree, only to have it topple over. This can cause damage not only to the tree but also, more importantly, valuable household items or members of the family. A Christmas tree is the centerpiece for all other decorations, so it needs to have optimum stability to stay in place over the season.
Wear and Tear
Christmas tree stands, like everything else, wear out over time. Give the stand a thorough checking over before put the tree into it. Check the legs and the joints. If it has a screw mechanism to tighten the stand, ensure that the holes have not stretched and that the screws are still a tight fit. If the stand has multiple legs, make sure all legs are solid and that the legs don't move around easily. You may have a stand where the legs slot in; if these now slide in too easily and there is any movement at all, it's time for a new stand.
Flooring
A live Christmas tree can look spectacular, but it needs to be watered to prevent it from drying out and the needles from dropping everywhere. If you have had expensive wooden flooring laid, a faulty stand that leaks water can cause devastating damage to your flooring. Thoroughly test your stand outdoors first so you can avoid damages from leakage. If there is any water escaping at all, ditch the stand and buy a new one. Stands designed especially for wooden floors are available, and they cost a lot less than getting your flooring replaced.
Revolving Stands
Revolving stands are becoming increasingly popular to show off Christmas trees, but they are not without problems of their own. Most of these stands stipulate that they hold up to only 150 pounds. It can be difficult to weigh a tree, and you must also bear in mind the extra weight of the trimmings. The girth of the trunk needs to be taken into consideration, too, as it must slot in tightly right to the bottom. Weight and measurement are key with these stands. If the tree is too heavy, it won't revolve properly, if at all, and if the girth is wrong it will just tip over.
Lopsided Stands
To keep your Christmas tree standing proud, the stand needs full contact with the floor. If you find that, for example, two legs are tight on the floor, but there is a gap under the third one, get rid of the stand. Do not be tempted to try to pack something under the third leg to give it stability; this may work with a table in a bar, but that isn't bearing the load of a fully decorated Christmas tree. It also can be a lot of hassle dragging the stand around the house to find a level place to stand it. If you have uneven floors, stick to a large tub, and pack it tightly around the trunk with rocks or solid, heavy — yet decorative — objects.