Oh Christmas tree, oh Christmas tree... why do you never look quite right? When your vision for your tree doesn't match up with reality, it's enough to turn anyone into a Grinch. Not this year—with the help of some seriously easy decorating hacks, you'll be channeling Cindy Lou Who's holiday vibes by the time the tree is done.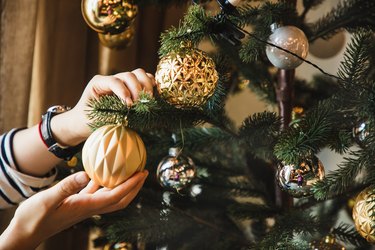 An artificial tree is a major timesaver, but yours won't look its best straight out of the box. Fluffing the branches is an essential step for artificial trees. Working your way from top to bottom, pull apart all the tips of each branch and bend them gently to fan them out. This will make it easier to hang lights and ornaments, and make the tree look noticeably more natural.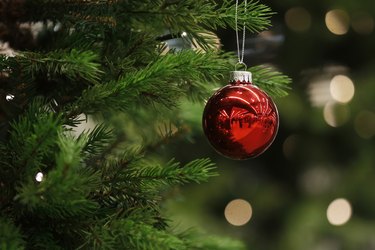 2. Work From the Top Down
Pets and toddlers may admire the lower branches of your Christmas tree, but most people's attention will be drawn to the middle and top. A messy tangle of lights or sparse patches of branches will be especially noticeable near the top of the tree. Start from the top when stringing lights, and hang your favorite and most attractive ornaments near the top too. Not only will they be eye level for most people, but they'll be safer from those curious pets and toddlers.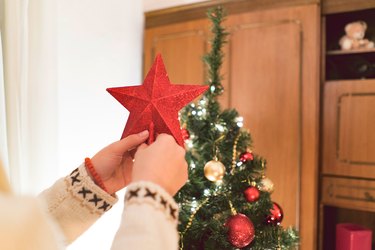 Most people wrap their lights around the tree in a horizontal spiral motion. This method works well, but a lot of the bulbs end up buried deep in the branches where their sparkle is dimmed. Hanging lights vertically tends to leave them more exposed, maximizing their light.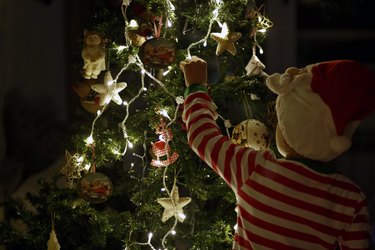 4. Hang Large Ornaments First
There are a few reasons why it makes sense to hang all your large ornaments before moving onto the smaller pieces. For one, some of your larger ornaments may also be your heaviest, so you'll want to reserve all the sturdiest branches for them. This method also lets you make sure that the most noticeable ornaments are evenly spaced before adding smaller, less noticeable accents.
Hanging a single layer of ornaments all around the tree looks nice, but also a little bit like the tree was decorated by a machine. Creating layers gives the tree more visual impact. Don't be afraid to hang a few small ornaments just in front of a larger one, or to cluster a few small ornaments on the same branch.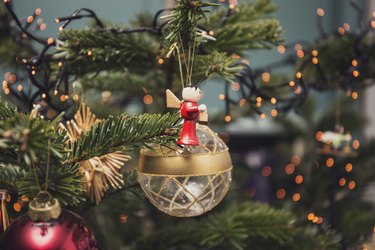 6. Enhance Lights With Mirror Ornaments
Let there be light! To decorate a tree that truly glitters, pair twinkle lights with mirrored ornaments. They'll catch and reflect the light in a way that makes your tree practically glow in a dim room.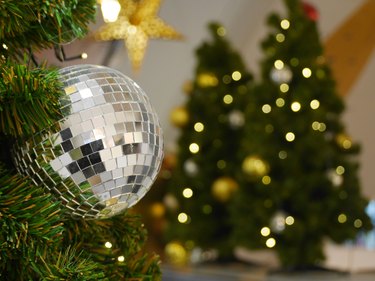 Tinsel is the secret ingredient for many a lazy Christmas tree decorator. It hides a multitude of sins and is generally super cheap. If you lack the energy and/or ornaments to cover the entire tree, stand back and squint to identify the areas that seem sparse. Strategically drape tinsel over those areas and call it a day.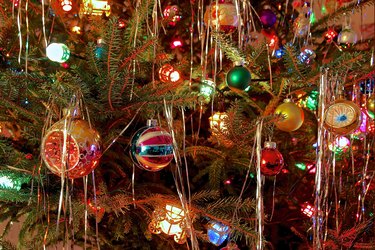 It may technically only stand 3 or 4 feet tall, but even a small Christmas tree deserves to be the star of the room. Give shorter trees additional height by propping them up. Position a tree on a folding table or stack of crates, hidden with a festive Christmas tablecloth. Or fill a large holiday basket with books or boxes to create a stable base, and set the tree right on top.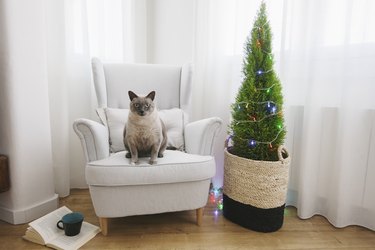 9. Appeal to the Sense of Smell
The perfect Christmas tree appeals to the senses of sight, touch and smell. Boost your tree's festive scent by making your own cinnamon ornaments to hang from its branches. For an artificial tree that lacks that real-tree pine smell, fake it by hanging scented Christmas sticks and/or by tucking real pine branches in among the artificials.
10. Get Creative With the Tree Skirt
A tree skirt hides your tree stand and completes the overall look, but some Christmas lovers skip the skirt because it seems too fussy or outdated. This year, forgo the traditional skirt and wrap a cozy knit or faux fur blanket around the base of the tree. A faux fur throw rug with a hole cut in the middle will also work. Other options include using red tulle or burlap to create a customized skirt that suits your style.