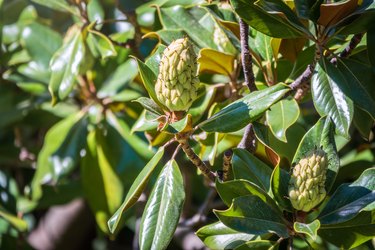 Magnolia seed pods look like velvety pine cones dotted with pretty red seeds, which fall out when they dry. They are ideal for making ornaments, and even when left bare they can be placed around the home and tucked among the branches of a Christmas tree as natural magnolia ornaments.
Magnolia seed pod craft projects for the holiday season are fun and easy for all ages. Make a collections of magnolia Christmas ornaments and you can hang them from a tree, tie them onto a garland or wreath, add them to a centerpiece, or place them around candles in a glass vase.
Preparing Magnolia Seed Pods for Crafts
Magnolia seed pods are ready for making magnolia ornaments as soon as they're dry. If you've gathered your own seeds that have fallen from the base of a magnolia tree, place them on some old towels or paper in a warm, dry spot for a few days.
Shake out the red seeds, if any remain, and use an old paint brush to remove any dirt or debris. You can also purchase dried magnolia seeds in bulk from arts and crafts vendors.
Easy Paint and Glitter Ornaments
Magnolia seed pod crafts can be as simple as adding a touch of paint or glitter to the pods, and tying a ribbon or yarn around the stem for hanging them. Choose magnolia seeds with at least 2 inches of their stems still attached for this project. Use acrylic paint, and either apply it carefully with a paint brush, perhaps creating a pattern with the natural segments of the seed pot, or drizzle paint around the pod with a craft stick or plastic spoon. To add glitter, apply white glue, shake glitter over the magnolia ornaments, and shake off the excess. Glitter-glue or glitter paint are also handy for adding sparkle.
Add ribbon or yarn around the stems to finish the magnolia Christmas ornaments. Make this addition part of the festive design as well as a handy way to hang the ornaments by using sparkly or glittery ribbon, or yarn in colors that match the paint. You could go for a red and green theme, or choose metallic gold or silver paint, glitter and ribbon. Tie the ribbon with a big bow at the base of the stem, or with yarn, then wrap it around and around the whole stem for a nice-looking finish.
Hold a magnolia seed pod so that it hangs from its stem, and imagine the round part of the pod as the dress of an angel. Paint the whole seed pod gold, silver or white, and optionally add glitter. Hot-glue a round wooden bead to the base of the stem as the angel's face, and draw on eyes and a smile with a permanent marker.
Tie a matching wide ribbon into a bow and hot-glue it to the back of the pod so that the loops of the bow resemble wings. Fashion a matching pipe cleaner into a halo and wrap it around the stem to hover over the angel's head. Add more ribbon to hang the magnolia Christmas ornament on the tree.
Mini Magnolia Christmas Trees
Standing upright on its stem, a magnolia seed pod can resemble a miniature Christmas tree. Find a tiny terracotta plant pot and insert a piece of floral foam in the base. Press the stem of the magnolia pod into the foam so that the "tree" stands upright.
Decorate the seed pod with paint, glitter and tiny versions of Christmas tree ornaments attached inside the crevices with hot glue. Another option is faux snow from a spray can. You could add small colorful beads to resemble baubles, and tiny metallic star-shaped stickers. Glue some tinsel around the base of the stem to hide the floral foam.