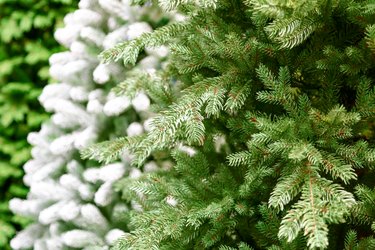 Cutting your own Christmas tree often consists of wandering around a snowy farm until you've found "the one" (or get so cold that you're willing to settle for anything that doesn't contain a rodent's nest). Beyond aesthetics, there's not much to consider when purchasing a fresh-cut tree—you take it home, water it, decorate it to your heart's content, and then leave it on the curb.
Artificial trees, on the other hand, require much more scrutiny as they're intended to last for 10-plus years. When selecting a faux evergreen, there are a number of factors to take into account, including size, construction, materials and silhouette. To make the buying process a little easier—you've probably got enough holiday stress to deal with already—we've put together a handy guide on what to look for when choosing an artificial Christmas tree, complete with thoroughly researched suggestions for your next tree or storage solution.
Before you begin shopping for an artificial Christmas tree, you should decide between a pre-lit or unlit model. A pre-lit tree is certainly the most convenient option, but they tend to come at a premium. You should also consider the bulb count—if the tree is sparsely lit, you might wind up adding additional string lights later on. Some pre-lit trees include a foot pedal for turning the lights on or off, but if not, you can purchase one yourself for around $10.
One downside to pre-lit trees is that occasionally an entire section of lights will burn out, often due to a blown fuse or a burnt-out bulb. There are fixes for such problems, but it's something you should be aware of before purchasing a pre-lit tree. Unlit trees, on the other hand, are usually less expensive but take longer to decorate and require you to purchase your own string lights. When deciding how many lights to purchase, a good rule to follow is 100 lights per vertical foot of tree.
National Tree Company 'Feel Real' Lit Artificial Christmas Tree, Frasier Grande, 6.5 Feet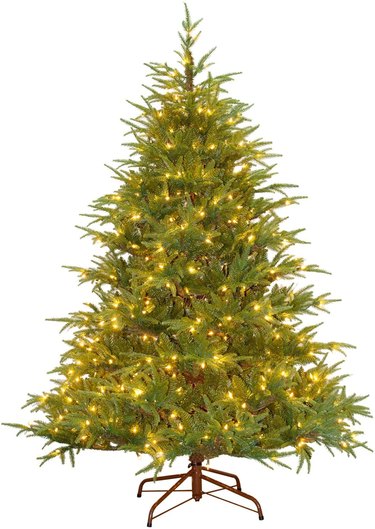 550 pre-strung warm white lights
Stays lit even if a bulb burns out
Limited 5-year warranty (2-year warranty on lights)
6.5 feet tall, 59 inches in diameter
2,531 branch tips
Mix of PE and PVC materials
Pre-attached, hinged branches
Full shape
Includes tree stand
Family-owned, USA-based company
Pre-measure the length, width and height of the space where you're going to place the tree. You should leave six inches to 1 ½ feet of space between the top of the tree and the ceiling—doing so ensures there's enough space for your tree stand and topper. Create a buffer of a foot or more between your tree and the wall or furniture to allow for better traffic flow and prevent the room from looking overcrowded. To reduce the risk of fire, you should also maintain a distance of five feet between the tree and any heat sources, such as a fireplace or radiator.
12-foot Jackson Noble Fir LED Pre-Lit Artificial Christmas Tree with 2,000 Color Changing Micro Dot Lights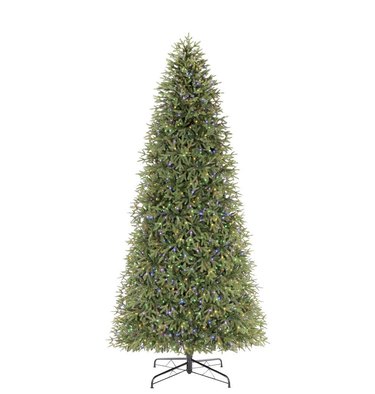 12 feet tall, 70 inches in diameter
8,308 branch tips
2,000 color-changing LEDs
8 color settings, includes remote control
Mix of PE and PVC materials
Full shape
Includes tree stand
Take the width and length of the space you have available and subtract about a foot to calculate the maximum width of your tree. Common silhouettes include full, slim, flat-back (sometimes called 'corner'), sparse, pencil and upside-down. An artificial tree's diameter is measured at its base, which is most often the widest part. When ordering an artificial tree online, you should also verify the tip count, a.k.a. the number of branch tips. This determines the fullness of your tree and how many ornaments you can hang.
6.5-Foot, Flocked Utica White/Green Fir Artificial Christmas Tree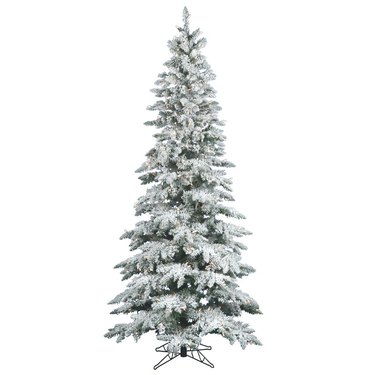 Slender shape
6.5 feet tall, 39 inches in diameter
744 branch tips
Flocked branches
300 warm white lights
Stays lit even if a bulb burns out
Made of PVC materials
Includes tree stand
Artificial Christmas tree needles are typically made from shredded polyvinyl chloride (PVC), polyethylene (PE), or a combination of the two. PE is more realistic and flexible but can be expensive. A tree with PE needles holds its shape well and needs very little fluffing after it's been taken out of storage. PVC is not quite as realistic and has a bottle-brush look, although it's a less expensive alternative. PVC requires a longer setup time as the branches are usually made of wire and can get bent out of shape in storage. Many trees offer the best of both worlds, using PE for the exterior and PVC as filler for the interior.
9-Foot, Elegant Grand Fir LED Pre-Lit Artificial Christmas Tree with 3000 Warm White Micro Dot Lights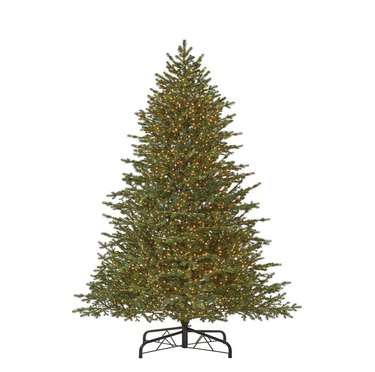 Made of long-lasting PE
Memory wire branches
3,000 warm white microdot LEDs
10,115 branch tips
9 feet tall, 63 inches in diameter
Full shape
Includes tree stand and remote control with timer function
There are more than 45 species of evergreens and about a dozen commercially available types of Christmas trees. There are artificial versions of many of the most popular Christmas tree species, such as the Norway Spruce, Fraser Fir, Douglas Fir, Balsam Fir, Scotch Pine and the Colorado Blue Spruce. If you've got a favorite, you can search for an artificial tree by species. While a fake tree doesn't offer that fresh pine scent, you can purchase scented ornaments, candles, diffuser reeds or essential oils for a full aromatic effect.
7.5-Foot, Artificial Norwegian Spruce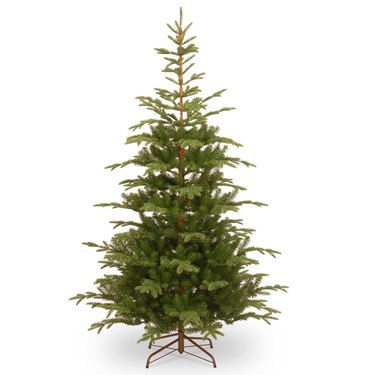 Norwegian spruce "species"
Imperfect, natural look
7.5 feet tall, 58 inches in diameter
1,326 branch tips
Made of PE and PVC materials
Unlit
5-year limited warranty from manufacturer
Includes tree stand
You can purchase an artificial Christmas tree in any color of the rainbow (including rainbow itself). Whether you're looking for a tree that's flocked, glittery, metallic, ombre, candy-striped, or a specific shade of green, you're sure to find a tree that fits your fancy somewhere on the internet. This step of the process is entirely subjective—you can either opt for a natural look or go crazy with color.
6-Foot, Costway Christmas Tree Hinged Full Fir Tree Metal Metal Season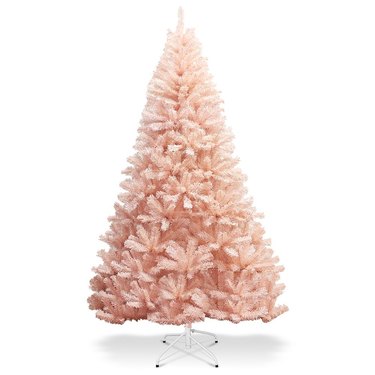 Blush pink color
6 feet tall, 40 inches in diameter
Unlit
617 branch tips
Made of PVC materials
Includes tree stand
All of the artificial trees we came across in our research require at least some assembly. First, you'll want to set up your stand, which is included in the purchase of most artificial trees. Some models are divided into sections that you stack vertically, while others require you to hook individual branches onto a center pole. For pre-lit trees, you typically have to connect the power cables for each section before plugging it into a wall socket (here's more information on how to plug in a tree that already has Christmas lights). Once your tree is assembled, you'll want to fluff the branches to give it a fuller appearance.
7.5-Foot, National Tree Carolina Pine Tree with Clear Lights
Pre-attached hinged branches for easy assembly
30- to 120-minute set-up time
7.5 feet tall, 61 inches in diameter
1,393 branch tips, plus decorative pine cones
750 pre-strung white lights
Stays lit even if a bulb burns out
Mix of PE and PVC materials
Limited 5-year warranty (2-year warranty on lights)
Includes tree stand
Family-owned, USA-based company
Some artificial Christmas trees come with a storage bag, but the cardboard box it was shipped in could work in a pinch. Taking apart an artificial tree is easier than setting it up, often requiring you to 'un-fluff' the branches by pushing them up toward the center pole. A basic Christmas tree storage bag can be purchased for around $25 and makes clean-up a breeze. Upgrade to a waterproof bag for safe storage, a rolling bag for easy transportation, or an upright bag that doesn't require disassembly. Just be sure to keep the size of your artificial tree in mind when purchasing a storage bag.
TreeKeeper™ Big Wheel Tree Storage Duffel Bag in Green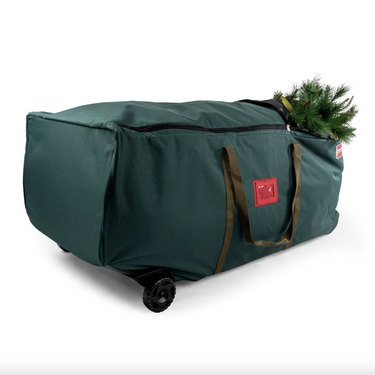 Fits trees 9 feet and under
Large zippered opening for convenient storage
Dual strap handles and wheels for easy transport
Made of polyester to protect against dust, pests and moisture
Limited 1-year warranty from manufacturer
Many companies offer warranty protection for your tree and its lights (if applicable). While warranty periods vary, purchasing a product that promises peace of mind for years to come is a smart investment. National Tree Company, for example, touts a five-year warranty on unlit artificial trees over 6.5 feet tall, while Balsam Hill offers a three-year limited warranty on regular-price artificial trees.
6.5-Foot, Unlit Classic Blue Spruce
Limited 3-year warranty (regular and sale-price)
Warranty covers frame, foliage, hinges and stand
6.5 feet tall, 53 inches in diameter
2,144 branch tips
Unlit
Made of PVC materials
Full shape
Color variations to mimic Colorado Blue Spruce
Includes tree stand and free storage bag
Prices can range from $10 for a tabletop tree to well over $2,000 for a 12-foot tree. How much you should spend on an artificial Christmas tree depends on your budget. Retailers like Target and The Home Depot frequently run before and after Christmas sales on artificial trees, allowing you to save a few bucks on holiday decorations. The more realistic-looking the tree, the more expensive it will typically be. Trees made entirely from PVC tend to be easier on the wallet, but those featuring PE needles are sure to fetch a higher price.
5-Foot, Real Touch Frasier Grande Tree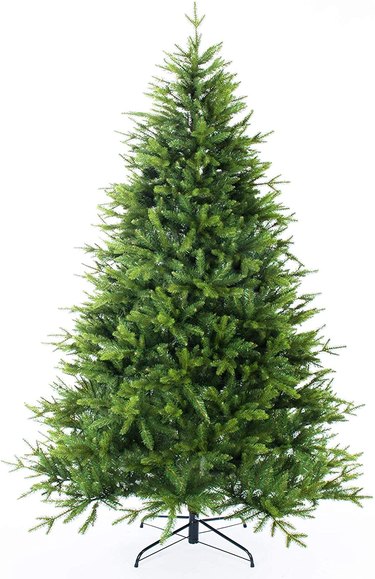 Excellent value for money
5 feet tall, 40 inches in diameter
570 branch tips
Unlit
Mix of PE and PVC materials
Non-removable hinged branch construction
Includes tree stand