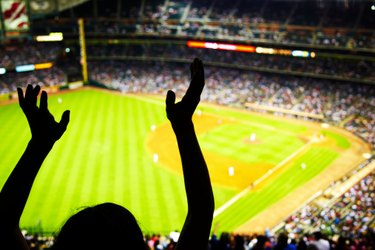 Many 13-year-old boys have lost their interest in childhood superheroes and other action figures and have developed a fondness for a variety of popular music, sport and film genre. Consider these newly developing interests when choosing a gift for a special son, grandson, brother or friend. For gift-giving on a budget, consider inexpensive novelty and personalized gifts that he will remember for years.
Humor
When in doubt, go big with the world's largest gummy worm that weighs approximately three pounds and equals approximately 4000 calories for a massive sugar high. The enormous gummy worm is 128 times larger than the typical gummy treat. With a five-inch girth and 26-inch length, this gummy worm has a shelf life of one year to ensure he has time to eat the whole thing. For the gift that reflects some teenager's viewpoints on time, consider the Whatever Clock. This wall clock has all the numbers located in the bottom left corner with the words "Whatever" written at the top.
Personalized
Customized M&M's is a great way of giving that personalized gift to the chocolate lover. Messages or pictures can be printed on individual M&M's with complete control over what color M&M's are used. Top the gift off with a candy dispenser for a complete gift idea. For a personalized mind twister, consider a photo Rubik's Cube. The cube displays six photos with one for each side and each photo divided into nine individual squares.
Sports
Tickets to the next game are always a real hit, but to add to the impact of the gift, consider a team jersey to wear to the game. A number of clothing options, such as shirts and hats are available to cheer the team both during and in between games. Sports memorabilia can be a great addition to an existing collection or the start of one. Autographed baseballs and baseball bats can be displayed in attractive cases to highlight a room while team watches can help keep him from missing the game. For home play, a number of small sports-based toys are available, such as miniature basketball nets that attach to the bedroom door.
Technology
For a music-loving 13-year-old, consider a new mp3 player or an iPod so that he can play the music of his choice anywhere. For a video gaming fanatic, consider a new gaming console to hook up to the television or handheld gaming system for him to carry around in his backpack. For a teenager who has to share the family television with siblings, consider purchasing him a portable television and DVD combination. The system can also help to keep him occupied and entertained during long car rides.