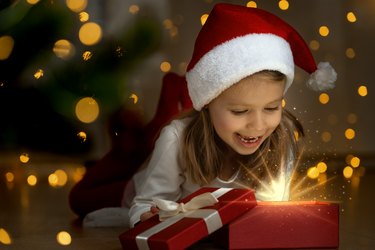 Deciding what to get for secret Santa gift exchanges can be tricky, especially when it comes to a child whose preferences you may not know. Gift cards and cash are no-brainers when it comes to secret Santa gift ideas. However, you may prefer to pick out a more thoughtful present. Luckily, there are many go-to options, from toys to games to books, that will be a hit every time.
From paint and crayons to markers and colored pencils, art supplies make great Christmas secret Santa gifts because they encourage young minds to explore their creativity. Nontoxic modeling clay is a great gift choice that will appeal to kids of many ages. Younger children who are still developing fine motor skills will enjoy dot markers, large chalk for drawing on the sidewalk or driveway or finger paints.
For older children, consider watercolors, acrylic paints or oil pastels. If you do give any type of paint, you may want to include a set of brushes or a canvas to get the recipient started. Origami and scrapbooking sets are fantastic and are unexpected choices. A journal and colorful pens are also a great gift that provides a different kind of creative outlet. If all else fails, remember that a child can never have enough blocks or LEGOs.
Board games – think Monopoly, Clue and Scrabble – make excellent gifts for children that the adults in their lives can also enjoy. If you want to challenge their minds and build their knowledge, games like Apples to Apples and Trivial Pursuit might be the way to go. Alternatively, choose classic board games, like checkers, chess, dominoes and Parcheesi, that kids won't outgrow and can enjoy for years to come. You can often find these games as part of a set. Other fun game ideas include Twister and Risk or a good old deck of cards.
From board books for children who have not yet learned to read to chapter books and novels for older kids, gifting books is a great way to enrich and expand a young person's perspective. Books that kids can open to any page at any time are also a great way to introduce topics like science or history.
Other educational secret Santa gift ideas for girls and boys include globes, which they can proudly display in a bedroom or study area, and puzzles, which are available in a wide range of difficulty levels. Older children will enjoy putting together three-dimensional puzzles of a famous landmark, like the White House, the Empire State Building or the Eiffel Tower.
If you are still stuck on secret Santa gift ideas for kids, consider a whimsical coin bank that will encourage the child to save money or a trinket box for the recipient to store special keepsakes. Gardening sets that come with a container, seeds and soil are the perfect way to get a child interested in the natural world. A snazzy pair of headphones or a watch will also appeal to older kids. For the youngest tikes, stuffed animals never go out of style.