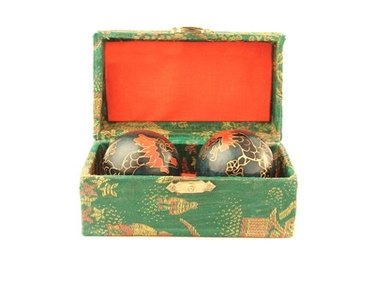 A Chinese gift exchange is a fun, economical and social way to exchange gifts. The tradition is well suited to groups.
Origin
The China reference is unclear. One suggestion points to the Chinese concept of destiny. Participants believe their random gift was not random. Alternate names are "Yankee Swap" and "Gift Grab."
Cost
Each participant brings one wrapped $5 to $10 gift. Gifts are labeled with numbers.
Rules
The first participant draws or calls a gift's number. The second player chooses or may take the gift from the first. This is called stealing. Subsequent players follow. If someone is a victim of a theft, she may steal or select a number.
Considerations
Variations limit the number of times a gift can be stolen, or the number of times someone can have his gift stolen. The simpler the rules, the easier the game.
Conclusion
The exchange concludes when everyone has a gift. The first player goes last. That player may trade a gift with any guest if she wishes.
Benefits
A Chinese gift exchange removes the burden and stress of purchasing a gift for everyone. It encourages conversation, humor and memories.