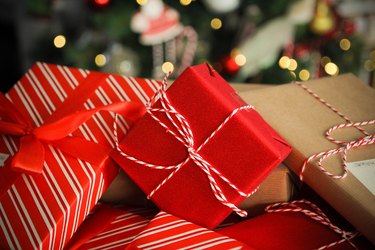 In a typical white elephant gift exchange, all participants are asked to bring a wrapped present that they will swap for another gift. It's a perfect holiday event for kids because, traditionally, the gifts for white elephant exchanges are supposed to be silly or just plain weird. The more unexpected the gift, the better, so don't be afraid to think outside the box when shopping for a kid-friendly white elephant gift.
White Elephant Gift Exchange Ideas
When it comes to planning a white elephant gift exchange for children, it's a good idea to establish a target price. That way, every child receives a gift of similar value and parents know how much money to spend. You should also consider the age of the children that will participate in the gift swap and make sure that all participants know the range that they should aim for.
It is also best to go for gender-neutral white elephant gifts, since you don't know which child will end up with which gift. That means it is best to stay away from dolls, jewelry and cosmetics, for example. Finally, unless you are familiar with the dietary needs and restrictions of every child who will participate in the gift exchange, stay away from anything edible, like candy, which can contain allergens. Avoid clothing items as well, since tastes and sizing can vary greatly, even among children of similar ages.
Silly White Elephant Gifts
Kids generally love all things silly and goofy, so finding a white elephant gift for this crowd is not very difficult. Slime, gag gifts like whoopie cushions or anything that unexpectedly glows in the dark will be a hit. A set of fake bugs or snakes that kids can use to scare their parents and siblings will also be well received.
The point of a white elephant gift exchange is ultimately to laugh, so mad libs books and kid-friendly joke books are also great options for this kind of event, as are magic trick sets that will turn any child into an aspiring Houdini. Costume props that can be used for pretend play, like weird wigs and funny masks, can also be interesting options.
Other White Elephant Gift Ideas
If you're not honoring the "silly" approach to a white elephant gift exchange, possible gift ideas for kids include board or card games, which can be enjoyed for many years. Classic games like Clue, Jenga and Guess Who? are safe bets because they won't go out of style, but trendy games are fine choices, too. You also can't go wrong with art supplies with a twist, whether it's glitter crayons or scented markers.
Funky décor items like lava lamps and moon lamps or whimsical clocks or coin banks will also appeal to a wide age range. Science-themed kits and sets that encourage curiosity can be great white elephant gifts for kids too, especially if they have a weird or gross element. Toys that talk or sing or dance are perfect for younger children, while older kids will appreciate electronics like headphones or a karaoke microphone.