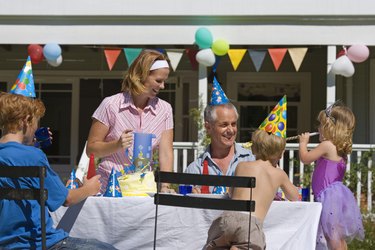 A 40th birthday is a big milestone. Most people say that once you reach 40 you are "over the hill," and though you can get a guy gag gifts to show he's old, you can make the birthday less traumatizing by giving him gifts to help him enjoy life. Someone who reaches 40 is likely well into his career and has a family, so it's important to give him gifts that help him kick back and relax.
Ownership
One creative gift for a 40-year-old man is giving him a piece of land for his birthday. Not just any land though; buy a small piece of Irish land that he can call his home. Websites offer ownership of a square of land for less than $100, as of the date of publication. This piece of Irish country is perfect for Guinness-loving men or those with an Irish heritage. If he's more keen on astronomy, name a star after him. Take him to a dark area and show him where his star is as a special birthday surprise.
Toys
Inside every 40-year-old guy there is a child waiting to get out. Buy him a toy he loved as a child, such as a squirt gun or remote control car, to relieve some stress from work. Purchase desk toys, such as a tabletop pool set, that he can play during work to take his mind off things from time to time. It's a way he can also socialize with colleagues over breaks and lunches.
Memorabilia
Purchase your man memorabilia from his favorite movie or band. Purchase a T-shirt with his favorite album on it or coasters with pictures of his favorite band. Instead of just buying the regular DVD of his favorite movie, look for the extended director's cut or boxed set. Accompany with a movie poster or book based on the film.
Grooming
Find the best grooming kit on the market for the 40-year-old guy in your life. These kits include shaving cream, after shave, cologne, lotion and brushes to prevent razor burn. Accompany the kit with a new razor or the latest electronic model. This gift is appropriate for the business man or to keep your boyfriend's cheek smooth for kissing.
Gag Gifts
If the recipient is lighthearted, choose from a variety of "over the hill" gag gifts. For example, purchase a T-shirt that reads "Over the Hill" with a picture of a hill or gravestone with a person peaking out from behind it. Mugs, hats and bandannas containing joke sayings about being old are also available. These gifts are available at party supply or novelty stores.