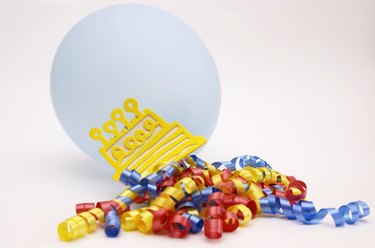 Coordinating a birthday club is a challenge, but will render a wide range of benefits when executed successfully. Whether coordinating a birthday club for a group of friends or for business needs, build your club using a simple structure that accommodates growth and change. Your club members gain access to creative birthday acknowledgments that foster a sense of inclusion in your circle of friendship or organization. Hand select the first members of your birthday club and perform a test run of your concept before inviting new members to the group.
Business Birthday Clubs
Step 1
Pick incentives you want to offer your customers as "gifts" on their birthday. As you will expand your club membership later, choose an item that can be easily duplicated without bearing a large expense such as a coupon. Make sure you allow the incentive to last for the customer's entire birth month to encourage action without imposing on the recipient's special day.
Step 2
Set criteria for selecting members of your birthday club such as dollar amount spent with your business, demographics or customer loyalty. Create a mailing list of these customers including their names, mailing addresses and email addresses.
Step 3
Invite your customers to your birthday club using email or postal mail. Make your club exclusive by advising select customers that your invitation can not be transferred and includes a sign-up bonus. Include an expiration date on the offer so that you only attract members seriously interested in representing your club. Choose people who are fans of your product or service to increase the possibility that they spread their positive experiences with your birthday club to others.
Step 4
Advertise your birthday club on your website and in your place of business. Include the "By Invitation Only" to add to the exclusivity of the club. When you invite new members later, they will feel privileged to have the invite. Host events and free webinars for birthday club members.
Personal Birthday Clubs
Step 1
Invite five of your closest friends to participate in a birthday club. Pick a time to meet and set the rules for your club. Though informal, keeping a set of rules helps everyone in the group understand how the club will operate.
Step 2
Collect birthday club dues so that money can be used toward an activity, meal or gift for each member as his birthday approaches. These dues should be collected at least two weeks in advance of the birthday event.
Step 3
Rotate roles and responsibilities. Designate a different person for each occasion to collect dues in advance of a birthday and coordinate the birthday activity. Do not accept new members with birthdays in the next 60 days. Require new birthday club members pay dues twice before being inducted into your club.
Tip
Be generous with incentives to customers. The incentive should not be available to non-birthday club members during a seasonal sale or promotion.
Warning
Respect the privacy of club members. Refrain from sending information not pertinent to the birthday club unless members have opted-in to get other correspondences.