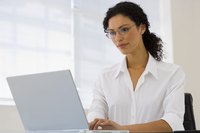 Planning a class reunion can be a huge undertaking with many costs involved, including rental of a venue to hold the reunion, payment for speakers or forms of entertainment (bands, DJs), decorations to spruce up the event, photographers to capture the memories from the event, mailers to contact participants and so on. Collecting money from classmates is a great way to fund the event, and there are several ways that you can collect money on a website for a class reunion.
Pull payments through PayPal. PayPal, a well-known, reputable third-party payment processor, is a good choice for collecting money on a website. With their free merchant options, you can quickly & easily create a basic shopping cart on your website by customizing Buy Now, Add to Cart or Donate buttons and adding simple code to your website. Payments can be made with any major credit card or transferred from an end user's PayPal account, if they have one. You can then link your PayPal account to a bank account, from which you can make event-related purchases. PayPal accounts are free to set up, but there are fees taken from each transaction, so be sure to compare those fees with those of other options before making a final decision.
Checkout with Google. Google Checkout works much the same as PayPal, in that you can set up a basic shopping cart on your website and allow users to pay with any major credit card, and they tend to have lower fees than PayPal.
Try Chipin. Anyone can raise money for their cause or event through Chipin, which provides a cool image that you can put on your website to show how much money you need to raise and how much has been raised already, so you can see at a glance how close you are to your goal. You can create customized widgets for a Facebook page or for use on a variety of website builders, like Wordpress, Blogger and Typepad. You can also create a free webpage through Chipin, in case you don't have the time or desire to create your own website. Chipin is completely free to use, but since it does need to be integrated with PayPal, you will need to consider PayPal fees.
Use Eventbrite. Eventbrite is another great way to collect money on a website for your class reunion. Geared especially toward special events, Eventbrite allows you to create a webpage for your event, promote your event if you choose to go that route, and sell tickets online. If your event is free, you don't pay a thing; if you're charging admission, you have to pay a transaction fee for each ticket sold, and you're also limited by a maximum amount that you can price your tickets.