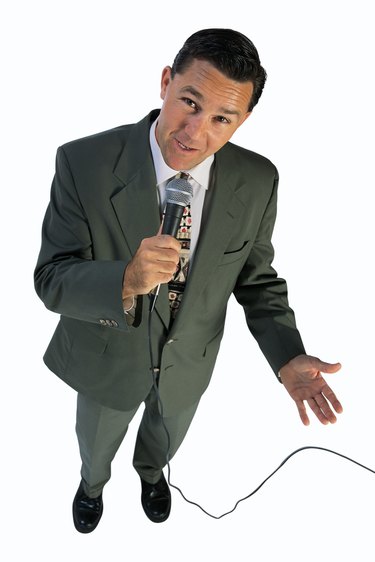 As your manager prepares to retire or move forward with his career at another company, you and your coworkers will likely want to put together a farewell celebration to wish your supervisor well. If you've been asked to be the Master of Ceremonies, keep a few important tips in mind to ensure you maintain the classy or upbeat nature of the party, while setting the pace for an enjoyable event your manager won't soon forget.
Step 1
Arrive to the party venue well before the guests so you can become familiar with the sound system and test the microphone. Showing up early will also allow you to see how the party site is set up, so you know where to make eye contact to keep the audience engaged.
Step 2
Look at the program for your manager's farewell party. As the MC, you'll need to know how to introduce each speaker that will present an award or kind word to the guest of honor. If you have a small speech prepared, becoming familiar with the program will give you an idea of when you should present it. If necessary, jot down a few notes on the program that will help you with guest introductions, such as "worked with guest of honor the longest" or "closest professional friend."
Step 3
Take your place on the stage or podium before guests arrive so you can welcome all the party goers.
Step 4
State the reason for the gathering, and lead the guests in showing your manager a round of applause as she's ushered into the room or seated at the main table.
Step 5
Introduce each individual before he gets up to share a short speech or poem at the celebration, using your notes as guidelines. Encourage the crowd to give every presenter a round of applause as he walks to the front of the room.
Step 6
Conclude the speaking portion of the farewell party by sharing a fond memory you have of your manager, and calling her up to the front so you can present her with a gift from you and the rest of your colleagues, like a plaque or large bouquet of flowers.
Step 7
Thank everyone for coming to the farewell celebration and prompt everyone to continue socializing or dining or cordially dismiss them from the party venue, depending on how the program is scheduled.