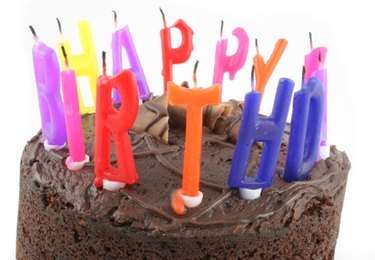 While turning 75 is a major accomplishment, so is planning and coming up with meaningful and fun 75th birthday party ideas. Your first consideration should be how active the birthday honoree and the majority of their guests are and adjust your planning accordingly. Be ready to honor the birthday guests' likes and dislikes so everyone feels special.
Entertainment
Musical entertainment can include the early days of rock and roll, swing, country and western or Dixie land jazz, depending on the birthday guests' preference or the music style that was popular for the age group. Karaoke or a DJ could be a big hit with this crowd; sing-alongs are great for the birthday honoree and their friends because they have listened to these songs for decades and usually know them by heart.
Themes
Depending on the celebrant's interests, you may want to go with a lively, fun theme like a poker night party, Scrabble party, bingo or casino night theme. Consider a 'This is You Life' theme: Have some of the special guests write letters about the honored guest and read them at the party, make copies of the letters beforehand and make them into a book, with photos, to give the birthday boy or girl. Play trivia games using the person's life as the theme, like 'What was Joe's first job?' Just make sure you know the correct answers. Do some research of the year the birthday honoree was born and pick a certain aspect of the culture at the time and bring it to life.
Decorations
Make sure you skip the 'over the hill' decorations for this birthday celebration; they are definitely inappropriate. You should go with the celebrant's favorite colors or use their birthstone colors for a majority of your decorations. With this milestone party, having lots of photo copies of special times throughout the person's life will spark reminiscing and a lot of conversation, make a collage of them and use them for placemats or framed copies for table décor.
Make It Special
Have certain close members of the family like grandchildren, children and close friends present the honoree with laminated cards; on the cards make it a reservation with the birthday person to do something special. Examples could be, 'Two hours of uninterrupted fishing time with dad' or 'I would like Grandma to finally show me how to make her fabulous apple pie.' There are many ideas and different variations you could come up with using your imagination. Many times, spending time with an aging loved one means so much more than store-bought gifts. Whatever theme or decorations you use, they will not be as important as celebrating the birthday person's life and the time they have shared with others, This should be your primary focus for a 75th birthday party.