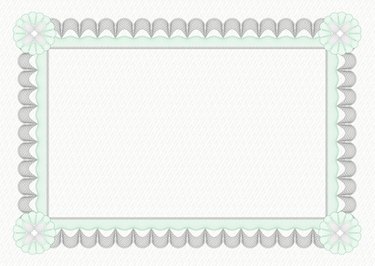 Finding the write words for an award no matter the occasion can seem daunting. There is a lot that can be said, but only so much space in which to say it. When writing for an award certificate keep it simple. There is time to say how you feel about the honorees at the awards ceremony.
Leadership Award
When presenting someone with a leadership award, include the position or organization that they were leading. If space permits, include the number of years that they have served in this position. For example, you will write the type of reward at the top of the certificate. This wording should appear larger than the other other wording on the certificate. The recipient should know what the award is for without having to get squint.
Service Award
If you are presenting a service award, include how that person has helped your community. When choosing words to describe how the person has contributed to your organization consider words such as dedication, commitment and reliability. However, do not feel required to use three or five words to show your appreciation. Consider what looks best on the certificate. Remember, this certificate will be displayed in the recipients home or office. Something correct and concise will be much appreciated when displayed.
Financial Supporter
When awarding an organization or business for its financial contributions to your cause remember to include what level its donation was for or what amount. Include the date and who will benefit from its contribution.
Athletics
For an athletic award ceremony, do not forget to include under what club they are receiving the award. If it is a city league, then it should be evident on the certificate. However, unlike the other awards, include the season and not the date the athlete receives the award.
Customer Service
If you are highlighting an employee's hard work, congratulate them and thank them for setting an example. Not only does this certificate let the recipient know that his or her loyalty to customers is appreciated and noticed, but also other employees will recognize the importance of going above and beyond.