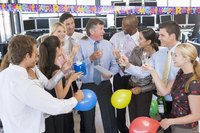 An individual's retirement is a milestone that is marked with parties, well wishes, and special gifts. A retirement gift is usually an item that the giver intends for the retiree to enjoy in the more easygoing years ahead. It is a good idea for a group to join together to purchase a larger or more meaningful gift by donating to a collection of money. The donations could fund a vacation trip for the retiree and spouse, a custom-made piece of artwork, or a hobby-related gift.
Discuss with a few members of your family or coworkers at your workplace about what the gift choices should be. Make a decision on a specific item.
Get a full description and price listing for the item. Seek out pricing at two reputable businesses at least. If possible, get a photo of the item to show to the group of gift givers. For example, if you are purchasing a large-screen television, piece of furniture, or camera, a clear photo and description of the item's features will encourage possible donors.
Write out a list of family members, friends, or business associates that you think will want to take part in donating to the retirement gift fund.
Compose a letter or email to potential donors to remind them about the family member or coworker who will be retiring soon. Explain that a group of family members, friends, and coworkers have decided to work together to purchase the retiree a group gift. Word the letter in a manner that does not feel forced, so recipients do not feel pressured. For example, you may write: "As you know, John Wilson is retiring next month. I am requesting that everyone chip in $5 so we can purchase him a nice gift to present to him at his retirement party on March 12. If any of you have gift suggestions, please share them as well."
Specify a cutoff date for the person to send or turn in their donation so there is ample time to purchase the gift.