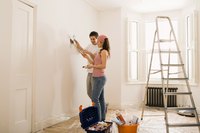 A textured finish applied to dry walls is referred to as knockdown texture. This name refers to the process of applying the compound on the wall and then knocking the excess off to create a textured wall surface. One benefit to having knockdown-textured walls is that the treatment hides imperfections on the walls.
Things You'll Need
Drywall tape
Level
Dropcloth
Spray gun
All-purpose joint compound
5-gallon bucket
Power drill with mixing hook
Air compressor
Scrap lumber board
12-inch taping knife
Prepare the walls by taping the drywall seams with drywall tape. Use a level to ensure all walls are level and flush. Lay a dropcloth under the wall where you are applying the knockdown texture. The dropcloth will protect the floor from fallen debris.
Read the directions for the spray gun to find the water ratio for the all-purpose joint compound and the pressure recommendations.
Prepare the all-purpose joint compound in a 5-gallon bucket according to package directions. Add the amount of water into the bucket of joint compound as recommended in the spray gun directions. Mix the water into the joint compound with a mixing hook attached to a power drill.
Turn the air compressor on, and set the spray gun pressure according to its directions.
Stand a scrap lumber board against one wall. Fill the spray gun's hopper with the thinned joint compound. Use the spray gun to spray onto the piece of scrap lumber board. Make adjustments to the spray gun as needed to create the desired knockdown pattern.
Begin spraying the joint compound onto the drywall at the top, holding the spray gun at least 12 inches away from the wall. Continue applying the knockdown texture one wall at a time. Allow the joint compound to dry on the wall for at least 20 minutes.
Hold a 12-inch taping knife against the sprayed wall, starting at the top and tilting the edge of the taping knife at a very low or 5-degree angle. Pull the taping blade down to the ground, applying light pressure. Move the taping knife 10 inches over and continue to knock down the joint compound off the wall.