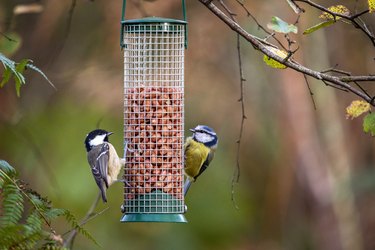 Whether you consider yourself to be an avid bird watcher or someone who just enjoys keeping your local birds well fed, a bird feeder will bring the birds to you—or at least to your yard.
The right bird feeder should be easy to clean, as birds carry bacteria and can contaminate the seeds while they're eating. Plus, when it rains, fungi can grow on wet bird seed, which is dangerous for birds to ingest. If you have squirrels in the area, you might want to go with a squirrel-proof feeder, which deters squirrels from eating the seeds through some sort of cage. Keep in mind, however, that squirrel-proof feeders are only small-bird friendly as larger species won't be able to reach the seed (which may or may not be a con to you).
What to Consider When Purchasing a Bird Feeder
‌Type:‌ You may not have realized, but there are several types of bird feeders. We'll tell you about the five most common types, which include tray or platform feeders, hopper feeders, hummingbird feeders, tube and window feeders.
‌Tray feeder:‌ A tray feeder is literally a tray or platform that holds seeds. It attracts a large variety of birds but offers no protection from weather or other animals. It's best to choose one with a screen bottom to promote drainage so the seeds don't soak in water and collect bacteria when it rains.
‌Hopper feeder:‌ This type of feeder looks like an adorable tiny house and can hold a lot of seeds. It attracts a wide variety of birds, including smaller birds like house finches, starlings or blue birds, medium-sized birds like orioles or juncos and larger birds like blue jays. It can be mounted on a pole or suspended. They can, however, attract squirrels.
‌Hummingbird feeder:‌ Often made of glass, these should be filled with sugar water and placed in the shade near a window so you can have a great view of the birds as they come by.
‌Tube feeder:‌ A tube feeder is the most common type of wild bird feeder. Small birds like sparrows, grosbeaks, chickadees, titmice and finches are attracted to this type of feeder.
‌Window feeder:‌ A small plastic window bird feeder has suction cups and can be affixed to a window so you can bird watch all you want. Since birds will have to stand in the seeds on a window feeder, the feeder will need to be cleaned daily to avoid bacteria buildup.
‌Material:‌ Wild bird feeders are made of plastic, metal and wood. If you go with a plastic feeder, it will likely have some sort of metal reinforcement and perch to prevent squirrels from eating the seeds. If your top choice is a wooden feeder, just make sure it's made of weather-resistant wood or is painted or stained.
‌Type of Food:‌ Not all birds eat the same seed. The type of food you put out will determine which bird species will visit your feeder. Sunflower seeds will attract the widest variety of birds, while millet is enjoyed by small-beaked birds and ground feeders. Ground feeding birds also enjoy medium cracked corn, and insect-eating birds like woodpeckers and wrens eat suet, which is a combination of seed and beef fat.
‌Seed Capacity:‌ The seed capacity will vary from bird feeder to bird feeder. A benefit of buying a feeder with a large seed capacity is not having to refill it too frequently, but this also has some downsides—like bacteria growth and moisture buildup.
Keep scrolling for our list of the best bird feeders of 2023.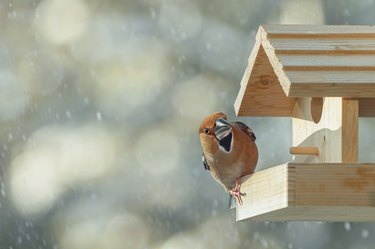 The Best Overall Bird Feeder
Feed your local birds while enjoying their beauty. This transparent acrylic bird feeder features two sections where you can place two different types of seed to attract different species. It comes with six strong and weatherproof suction cups so it can safely attach to a window, giving you the opportunity to closely watch the birds as they eat. The feeder is easy to fill and easy to clean.
The Best Budget Bird Feeder
Adorable and inexpensive, this bird cottage is the perfect way to add some decor to your backyard and attract birds while doing it. The feeder can hold up to 5 pounds of bird seed that dispenses into a tray. It can be used as a hanging bird feeder or it can be mounted, and it includes a squirrel-proof cable for hanging on trees or from a deck.
The Best Squirrel-Proof Bird Feeder
It's on the pricier side, but this squirrel-proof tube bird feeder is exactly what you need if the sneaky squirrels keep stealing all the bird seed (and making a gigantic mess while doing it). This tube bird feeder is incredibly well-made, so you can plan on having it for a long time. It has a cardinal ring system that allows cardinals, who tend to have a hard time turning their heads to feed, to eat comfortably. This feeder can hold 5.1 pounds of seed and has the option to add on an adjustable pole mount adapter.
This window-mounted acrylic bird feeder has two seed trays along with four suction cups that'll keep it secure. It features a perch that allows birds to stand over the bird food without standing on the seed. As long as the bird feeder is kept at least 10 feet away from ledges, branches and anything else a squirrel can climb, it'll remain squirrel-proof.
The Best Bird Feeder With a Camera
Who knew bird feeders could be smart? Not only is the Netvue Birdfy Lite a bird feeding station, it also comes equipped with a camera, making it the perfect viewing platform for bird aficionados. A built-in camera with night vision auto-captures all your backyard birds as they approach and land on the feeder. Connected via Wi-Fi to an app on your smartphone, the camera can magnify the view, so you can see the intricate details of their feathers and more.
The feeder can hold up to 1 1/2 liters of bird seed, so you won't have to add more seed too frequently (but you'll still need to make sure it's kept clean). There's an add-on option for a solar panel. The feeder includes a small protruding perch so birds don't have to stand in the seed.
The Best Bird Feeder for Hummingbirds
Hummingbirds feed on nectar from flowers, but they also enjoy nectar from a hummingbird feeder. This glass feeder features four flower-shaped feeding ports to accommodate multiple hummingbirds at once. The vibrant red color of the feeder attracts more hummingbirds, and a built-in ant moat protects the feeder from an ant invasion. This feeder comes in four sizes, holding between 10 and 40 fluid ounces of hummingbird nectar, which consists of a simple sugar and water solution.
The Best Platform Bird Feeder
Platform bird feeders have the advantage of being easy to clean and they're pretty good at attracting a wide variety of birds. This heavy-duty platform feeder has a hanger mount or it can be placed on the ground for ground feeders, although this may attract squirrels, rodents and other animals. It has a mesh removable seed tray with drainage holes to help with air circulation and to keep water out. The feeder is made to resist fading and water damage. It comes in a 10-inch by 10-inch cedar option or a 12-inch by 12-inch bamboo option.
The Best Artistic Bird Feeder
If you want to attract small birds to your yard, this circle bird feeder with a copper finish is perfection. It has a hole in the middle where birds can sit and feed on seed, but it also allows them to fly through. It isn't just a functional bird feeder, it would be a gorgeous addition to any outdoor decor. There isn't a lot of landing room, however, so it will probably fit only one bird at a time.