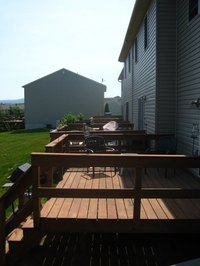 Any wood used around the exterior of your home will deteriorate over time. It may be come necessary to remove and replace lumber especially if it has ground contact. A exterior deck is a good example of this. The decking boards and the post can crack and split over time making the deck a safety hazard the needs to be taken care of. The do it yourself handyman can tear down and dismantle a deck with the help of a few friends.
Things You'll Need
Power screwdriver with bits
Circular saw
Tape measure
Chalk line
Reciprocating saw with wood blade
QuickRip demo tool
Shovel
Socket wrench with sockets
Work gloves
Safety glasses
Examine the deck to decide if there is any part of the deck that you may want to try and save and reuse. If this is the case you may need to modify some of the steps in order to save them.
Remove the decking boards. Depending on the condition of the deck you can use a power screwdriver with a new bit to remove the existing screws from the decking boards. If this is not the case skip to the next step.
Set the depth of cut on a circular saw to 1/2-inch deeper than the decking material. Snap a chalk line between every other floor joist. Use the circular saw to cut along the line to make it safer and easier to remove small sections of the decking at a time. To finish the cut close to the house where the circular saw can not reach, use a reciprocating saw with a wood cutting blade.
Use the reciprocating saw to cut the floor joist's off from the rim joist. Cut them off a couple of inches from the joist hangers. You will need some help holding them still as you cut them off at both ends.
Remove the post from under the old deck. These will either be set into the concrete or attached with a post hanger. Dig out the post with a shovel and remove them.
Remove the rim joist from the post and the house. Use the reciprocating saw to cut them from the post. This will work for all of the rim joist not attached to the house. Use a socket wrench and socket to remove the lag bolts that attach the rim joist to the surface of the house.