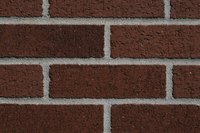 Z-Brick is a molded facing brick composed of a variety of minerals that is applied directly to a wall with mastic (an adhesive used in construction) to create the appearance of a real brick wall. While you can remove Z-Brick, the process is time-consuming and costly and will likely damage the wall, in which case you would have to replace the drywall or repair the plaster. You also risk damaging the surrounding cabinets or countertops. For these reasons, you may want to simply reface the Z-Brick to make it look more like modern subway tile.
Things You'll Need
Cleaner with degreasing agent
Primer
Interior latex semigloss or high gloss paint
Waterproof kitchen and bath caulk
Heavy nap roller
Paintbrush
Clean cloth
Prep the surface by cleaning it thoroughly, preferably with a cleanser that includes a degreasing agent.
Prime with a primer/sealer and let it dry. Consult the instructions on the primer you select—some brands dry in 10 to 15 minutes, while others may require up to 48 hours.
Apply semigloss or high-gloss latex interior paint with a heavy nap roller (about 3/4 inch). Go over any spots the roller missed with a brush.
With a caulking gun, squeeze a generous bead of caulk into the grout lines. Smooth the caulk with wet fingertips. Wipe any excess off the bricks with a damp cloth. Continue this process in small sections until you finish.