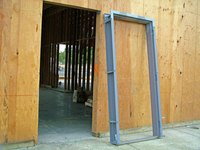 Do it yourself projects do not have to be challenging and with the proper knowledge and tools even the most labor intensive job can be done efficiently and effectively. Replacing a door frame is one such project that will enhance the beauty of your home and doing the work yourself will help save money and improve your most valuable asset, your home.
Things You'll Need
Screwdriver
Pry bar
Putty Knife
Prior to door frame replacement
Remove the existing door and hardware.
Use a pry bar or stiff putty knife to remove the door trim around the frame.
Use a pry bar to remove the frame.
Remove any left over nails from the rough door frame to begin working with a smooth surface.
Door frame replacement
Set the new door and frame into the rough opening.
Plumb and level the new frame in the opening.
Secure the frame to the opening with nails and shims; use shims to keep the frame square and solid.
Reinstall the original door trim and secure with nails.