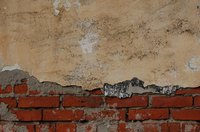 Slurry is a layer of mortar, cement or grout that can be troweled over the top of brick masonry. For the best appearance when painting it, select high-quality paint products. The Sherwin-Williams Loxon paint system is one option that provides superior protection from wind-driven rain and moisture. When applied, the paint system is a great way to enhance the style and comfort of your home. The color you choose can accent a carport, porch or patio. To paint your brick slurry, first you need to prepare it for painting.
Things You'll Need
Paintbrushes
Interior or exterior paints
Primers or sealers
Lightweight grout
Drop cloths
Broom or scrub brush
Ladders
Paint roller covers, 1" thick
Paint roller
Paint roller pans
Household rags
Painter's masking tape
Preparation
Clean the surface that is going to be painted. A cleaning solution can be purchased from any home building center; Red Max or any concrete and masonry cleaner will do fine. Spray the cleaner from a pump canister or spray bottle onto the surface of the slurry.

Rinse off the area with a power washer or garden hose, to remove any loose dirt and grit. Allow the surface to dry. If you do not want to use excess water for dirt removal, use a broom or brush to clean loose dirt out of the area.

Prime the surface, using a sealer to block out moisture and protect the slurry. Allow time for the surface area to dry. The product that you purchased should tell you drying times in the instructions.

Use a lightweight grout to fill in cracks, if the area has crevices and cracks that you do not want to show through in the paint work.

Roll the paint onto the surface area and let it dry. Alternatively, you can brush the paint onto the area.

Look over the area after the paint has dried to make sure that the paint covered the whole surface and did not leave any unpainted spots. If there are unpainted spots, you should repaint. Generally, every paint job needs two top coats of paint.