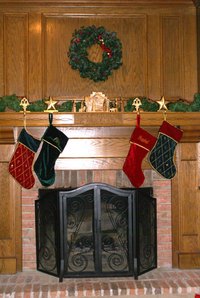 Creating a fake fireplace to decorate a classroom is a fun project the entire class will enjoy. This will be an ingenious place to hang stockings at Christmas time or will just be a cozy addition to your winter decorations. Placing a large rug near the fireplace will make an inviting place for the children to sit and read books or an area to spend time in when they finish their class work. Constructing a faux fireplace and hearth will be an educational experience for all the students.
Things You'll Need
Four 18-inch square boxes
Two 28-by-20-by-5 inch rectangular boxes
Brown packing tape
Old newspapers
Acrylic paints (red, brown, white, cream and black)
Paper plates
Large rectangular sponge
Shop towel or old rag
Gray paper or poster board (at least 20-inches square)
Construct the hearth by using the four square boxes. Leave a flap open on each of the boxes. Seal the other edges with the packing tape.
Stack two boxes on each end to form the fake brick walls of the fireplace. Tape the two ends together to create sturdy walls, leaving the flaps open.
Tape all the seams and edges together so that there will be a smooth surface for the paint. Tape the open flaps together with the packing tape. This will form the back wall of the fireplace where the logs will sit.
Paint the fake bricks by placing some acrylic red, cream and brown paint on a paper plate. Dampen the sponge with some water and wring it out. Place the sponge on the plate over the paints. Take the sponge and starting at the bottom of the hearth, make fake bricks. Reload the sponge with paint after two or three bricks, or as needed. Keep making the fake bricks until the entire hearth is covered.
Tape the two rectangular boxes end to end to form the mantle. You can find these at office and mailing supply stores.
Squeeze some white and black paint onto another paper plate. Dampen the old rag with water and wring it out. Place the rag, bunched together, into the black and white paint. Swirl it around on the mantle so that it gives a marble-look effect. Reload the rag with paint when it needs it. When the mantle is completely dry, tape it to the fake fireplace.
Set the large piece of gray paper on the floor to act as the floor of the fireplace and set the fireplace down on it.