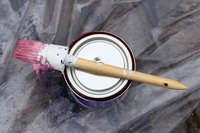 Color washing is an excellent way to create a warm, inviting look in your home. It is a faux painting technique that adds texture and drama to a room while providing a cohesive design statement. The process includes painting a wall with one solid color, and then painting directly over it with a mixture of another color and a light glaze. A variety of visual effects can be achieved using different painting tools. The most novice do-it-yourself painter can utilize color washing to create an elegant room of professional quality.
Things You'll Need
Latex base color paint
Latex color wash paint
Paint tray
Paint roller
Dropcloths
Painter's tape
Glaze
Wall putty
Putty knife
Sandpaper
Paintbrush
Sponge
Cloth
Cardboard
Household detergent
Remove all pictures and wall hangings. Fill in any holes in walls from picture hangers, nails or screws using putty. Allow putty to dry. Use sandpaper to smooth the surface.
Wash down the walls using household detergent. Allow to dry. Move all furniture to the center of the room and cover with a dropcloth.
Place dropcloths over floor surface. Apply painter's tape to edges along windows, baseboards, doors and ceilings to keep those areas clean and paint free.
Pour base wall color into paint tray. Paint walls using a roller. Use a brush to paint areas the roller cannot reach. Allow paint to dry.
Prepare glaze mixture. Combine glaze with color wash paint using four parts glaze to one part paint.
Practice applying the glaze mixture on a piece of cardboard. Move your applicator (sponge or cloth) as you would if you were washing the walls. Identify which application technique will create your desired visual effect, or combine techniques to create an individualized look.
Apply glaze mixture to walls. Glaze an entire wall at one time in a diagonal direction to eliminate drips and vertical lines. Allow glaze to dry, and repeat if desired.